You need to finish up your office document or even your home work but you don't want your housemate or family members to know that you are burning the mid-night oil. What can you do? Light a candle? Well, perhaps this unique gadget, USB Think Light, might help you.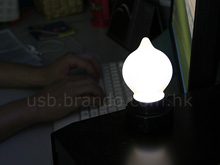 This superb creation comes in the form of a light bulb that emits light as long as your keyboard is actively being used, ensuring that a flurry of activity will commence in the bright light of your desk. The great thing about this bulb is: the faster you type on the keyboard, the brighter the light. While helping you to finish up your work, it is also great for practicing your typing skill!
Costing US$15, the USB Think Light comes with a four-foot long universal serial bus (USB) cable. It weighs 48g and is compatible with Windows XP and Windows 2000.