Podcasters and other in need of audio recordings no longer need to stick a microphone in their subjects' faces. The Olympus DS-50 voice recorder has a clip-on stereo microphone that will pick up both sides of a conversation.
The DS-50 digital voice recorder is part of a new generation of Olympus Digital Voice Recorders. It is specifically designed for creating and listening to podcasts. It can record at CD quality and connects to any PC with a USB cable. It can also playback MP3 and WMA files, allowing it to double as an audiobook reader and music player.

The DS-50 recorder includes features to enable use by the visually impaired. Buttons feature ridges and grooves that make them more identifiable by touch. The recorder has a Voice Guide that can be set to speak button functions when pressed, aiding navigation by touch.
The recorder also has an Audible folder, permitting download of purchased audio content from Audible.com®. The Music folder permits the download of WMA (Windows Media Audio) and mp3 music files using Windows Media Player.
The bundled DSS Player Version 7 software can be used to manage, archive, and edit audio files made with the recorder. Files can be downloaded to the software via a bundled USB 2.0 cable. The software also enables subscription to and download from podcast URLs. The podcasts can be transfered to the recorder for playback at the user's convenience.
The recorder's microphone can clip to a tie or lapel, allowing the recorder to remain unobtrusive. Its 1GB of memory can hold around 275 hours of audio at average quality. Voice prompts describe current settings and audibly confirm commands.
DS-50 costs you around US$249 for 1GB memory version. There are also less expensive kin: the US$150 for DS-30 with 256MB memory and the US$200 DS40 with 512MB. Read more from Olympus.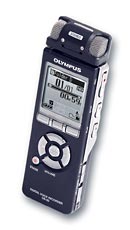 Features and Benefits for DS50
Recording Format: WMA (Windows Media Audio)
Recording Media: 1 GB built-in Flash memory
Input Level: 70 dBv
PC Interface: USB
LCD: 26 x 25 mm
LED: 2 colors (red = record/transfer, green = playback)
Folder Messages: 5 folders, 200 messages per folder, plus Audible, Music, and Podcast folders
Recording Time
– STEREO XQ mode: 17 hours 30 minutes
– STEREO HQ mode: 35 hours 10 minutes
– HQ mode: 70 hours 20 minutes
– SP mode: 138 hours 30 minutes
– LP mode: 275 hours 20 minutes
Sampling Frequency
– STEREO XQ mode: 44.1 kHz
– STEREO HQ mode: 44.1 kHz
– HQ mode: 44.1 kHz
– SP mode: 22.0 kHz
– LP mode: 8.0 kHz
Overall Frequency Response
– STEREO XQ mode: 50 – 19,000 Hz
– STEREO HQ mode: 50 – 16,000 Hz
– HQ mode: 50 – 13,000 Hz
– SP Mode: 100 – 8,000 Hz
– LP Mode: 100 – 3,000 Hz
LP Mode: Yes
Voice Activation: Available, Switchable ON/OFF
Demographic Data Input: 250 mW
Speaker: Built-in 23 mm round dynamic speaker
Microphone Jack: 3.5 mm mini-jack, impedance 680 ohms
Earphone Jack: 3.5 mm mini-jack, impedance 8 ohms
Power Supply: 2 AAA Alkaline or 2 AAA NiMH batteries (BR-401)
External Power Supply: Optional AC Adapter A321 (120 VAC) or A322 (220 VAC)
Size: 4.37″ x 1.48″ x .63″ (111 x 37.5 x 16 mm) with bundled microphone, excluding protrusions
Weight: 2.81 oz (80 g) including bundled microphone and alkaline batteries
OS Supported: Windows® 2000 Professional, Windows XP Professional, Windows Home Edition
Get a copy of the instruction manual and brochures here.