ZAGG invisibleSHIELD is a protective skin or cover that wraps around a gadget or device in order to protect it from scratches, blemishes and other damage. The Invisible Shield from Zagg is created from an ultra-tough, thin, patented film with polyurethane material that was originally developed by the military, allowing users to use the tough, slim yet transparent or invisible Invisible Shield to maintain the original look and feel of the gadget or device.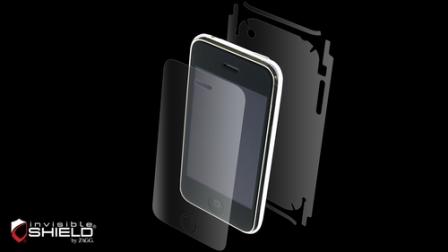 Features of Zagg Invisible Shield:
Scratch-proof patented film exclusive to ZAGG
Exceptionally clear and virtually indestructible
The ultra-thin film of only 0.2 mm thich will not add bulk to your device
Precision cut with Nano-memory technolgoy to fit thousands of different devices precisely with custom designs that hug the curves and contours of your electronics and resists damage and scratches.
Military Grade originally developed to protect helicopter blades
Gives your device increased grip
Lifetime Replacement Warranty
Millions sold worldwide
InvisibleSkinz.com is one of the leading online retailer for invisibleSHIELD
(aff). As a joint promotion with My Digital Life, Invisible Skinz is going to give away three (3) invisibleSHIELD from ZAGG to three (3) lucky winners. Best of all, winners can select invisibleSHIELD for any type of devices from the huge list of supported devices in the catalog, such as phone, iPod, iPhone, PDA, camera, laptop, watch, GPS device, media player, gaming device and many more other gadgets.
How to Win a Free ZAGG invisibleSHIELD
Note: Contest Closed. Winner is qwertz1001, blunden and Tira.
To earn yourself a chance to win a piece of Invisible Shield, just write and post a comment stating ZAGG invisibleSHIELD for which device (e.g. iPhone 3GS or T-Mobile G1) you want. State only one device or gadget in your comment.
All comments must be posted on or before 01:00 AM on September 5, 2009 according to comment posted time (UTC+8). You can post as many comments as you like to increase your chance of winning. Winners must also allow his or her addresses to be given to Invisible Skinz for product delivery.
3 winners will be selected randomly, with each entitles to one ZAGG invisibleSHIELD for his or her preferred device.
If you miss out the chance to win, or is not lucky enough, here's 20% discount coupon code for ZAGG Invisible Shield on Invisiable Skinz.