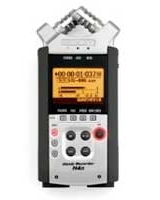 Sounding a bit like an essential gas or a missile, Zoom H4n is a portable audio recorder with extensive features, veering on the high end. This is a pocket-size device which can capture live recordings faithfully.
Zoom's H2 and H4 mobile recorders were relatively cheap despite their extensive features and high performance. The Zoom H4 Handy Recorder not only retains the original features of Zoom H4 (stereo mics, XLR/TRS mic inputs, variable-recording patterns, and a slew of recording formats and resolutions), it comes with a larger screen, more user-friendly button arrangements and a new look. The metallic microphone design is rather chic and cool while the shock-absorbing rubberized body prevents hard knocks and dents.

The Zoom H4n records to SD and SDHC Flash media (up to 32GB) and captures audio resolutions up to 24 bit at 96KHz. A dream gadget for music lovers, the Zoom H4n is equipped with 50 virtual guitar-amp model effects, track markers, playback speed control, and studio effects, among others. Zoom H4n also has an unusual feature: it allows simultaneous recording of up to four different channels.
For awesome recording particularly of live performances, the Zoom H4n is hard to beat in terms of value and function.