Zune HD, Microsoft's next-generation portable media player is set to debut in retail store on September 15, 2009, and has now available for pre-order. Zune HD is the first touch-screen Zune device that includes powerful playback technology, feature-packed PC software, and online services such as Zune Pass, providing users a different way to experience their favorite media on the go.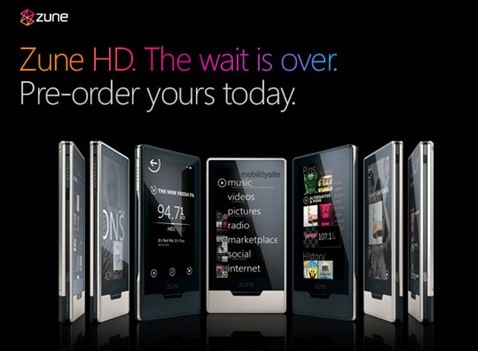 Main Features Of Zune HD:
3.3-inch OLED touch screen with 480 x 272 resolution and 16:9 widescreen format
Integrated HD Radio receiver enables users to listen to higher-quality sound
Supports HD video playback on Zune HD or on HDTV with premium HDMI Zune HD AV docking station (sold separately)
Built-in Wi-Fi support for browsing, streaming or downloading new music from Zune Marketplace
Internet browser for full-screen Web browsing
Zune HD AV Dock (sold separately – $89.99) with HDMI and composite ports charges and syncs players while playing supported 720p HD videos on HDTVs
Available in 5 different colors – black, red, green, blue and platinum
Option to customize your player with 1 of 10 new engravings designed by guest artists
Wirelessly sync Zune HD to home PC via home network
Audio Support: Windows Media Audio (WMA) (.wma), Advanced Audio Coding (AAC) (.mp4, .m4a, .m4b, .mov) with or without FairPlay DRM and MP3 (.mp3)
Picture Support: JPEG (.jpg)
Video Support: Windows Media Video (WMV) (.wmv), MPEG-4 (MP4/M4V) (.mp4), H.264 video and DVR-MS4
Battery: Music, up to 33 hours (wireless off); video, up to 8.5 hours
Charging Time: 3 hours to charge from PC, 2 hours via AC adapter
Zune HD is available in 2 variants of memory capabilities – 16 GB and 32 GB. Microsoft has published complete technical specifications for both Zune HD models on Microsoft Store (Zune HD 16GB and Zune HD 32GB), with a more updated specifications with comparison between both Zune HD models available for download in PDF format: Zunespecs_0813.pdf
Zune HD 16GB and 32GB Prices
Zune HD 16 GB: $219.99
Zune HD 32 GB: $289.99
Consumers can now pre-order Zune HD in 16GB Black and 32GB Platinum through http://www.zune.net/zunehd from Amazon.com, Best Buy, Walmart and Microsoft, according to Microsoft's press release. On September 15, Zune will be available from http://www.zuneoriginals.net. Currently only Microsoft Store and Amazon has started taking order for Zune HD pre-order, which can be accessed using link below.
Amazon: Zune HD 16 GB Video MP3 Player (Black)
(aff) and Zune HD 32 GB Video MP3 Player (Platinum)
(aff)
Microsoft Store: Zune HD 16GB Black and Zune HD 32GB Platinum
Zune HD is set to debut internationally worldwide too, though not on September 15r, 2009 launch date, but later in the year.