Thanks to collaboration of long-time audio industry veterans Tom Hannaher and Winslow Burhoe, ZVOX Audio has launched its new true single-cabinet surround sound system built conveniently into a base platform for stand-mounted flat-panel TV sets between 32 and 47-inches, dubbed as Z-Base 550, which features ZVOX's proprietary PhaseCue virtual surround sound system, aiming to reproduce music and movie soundtracks with lifelike accuracy.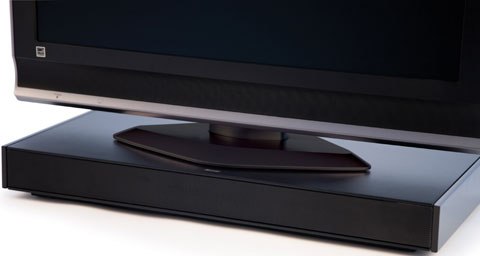 According to the company, "PhaseCue, as its name implies, manipulates the phase of the separate channels to 'fool the ear' into believing that sound is coming from a variety of sources throughout the room. The benefits of PhaseCue vary greatly based on program material. Live music and well-recorded modern movie soundtracks will deliver rich, three-dimensional sound – pulling the sound out from the speakers and into the room, literally surrounding the listener. Unlike many digital virtual surround systems, PhaseCue does not create any 'digital weirdness' – rain the sounds like white noise, female singers that sound like they're standing in a giant tin can."
Technical Details Of ZVOX Z-Base 550:
Five 2″ full-range speakers and one 5.25″ subwoofer
PhaseCue virtual surround sound
Auto-on/auto-off circuit
Two analog stereo inputs (mixing inputs)
60 watt amplifier
Frequency range: 45 Hz – 20 kHz
Dimensions: 28″ (w) x 14.5″ (d) x 3.5″ (h)
The new ZVOX Z-Base 550 all-in-one home theater that utilizes beautiful hand-lacquered high-gloss black end panels is now available for about $500.