The well-known online shopping (e-commerce) company, Amazon has recently launched the long awaited Kindle e-book reader with wireless connectivity and a revolutionary new display technology – Electronic Paper which can deliver a sharp, high-resolution screen that looks and reads like real paper, aiming to provide an exceptional reading experience.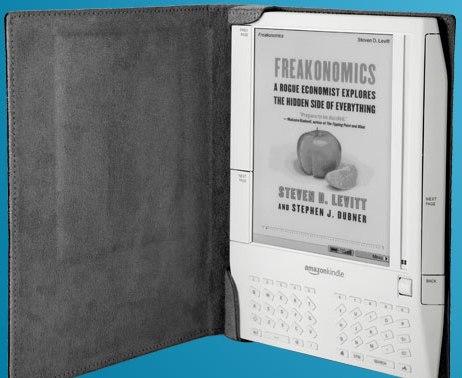 Furthermore, the new e-reader is comes equipped with Kindle's QWERTY keyboard and an 6 inch diagonal E-Ink electronic paper display with 600 x 800 pixel resolution at 167 ppi and 4-level gray scale.
According to Jeff Bezos, Founder and CEO of Amazon, "We at Amazon are excited to announce Kindle, a wireless, portable reading device with instant access to more than 90,000 books, blogs, magazines, and newspapers."
"We chose the same wireless technology used in advanced cell phones, so you never need to locate a Wi-Fi hotspot," added by Bezos. "But unlike cell phones, there are no monthly wireless bills, no service or data plans, and no yearly contracts."
With Whispernet utilizes Amazon's optimized technology plus Sprint's national high-speed (EVDO) data network, the latest Kindle reading device allows the users to search, direct download, and read content in Kindle Store wirelessly on the go. In addition, there is no charge for Kindle's wireless connectivity.
According to the company, the new Kindle electronic device also includes the built-in dictionary – New Oxford American Dictionary with over 250,000 entries and definitions which aimed to translate the meanings of words without interrupting your reading.
Besides, the users can also subscribe to top newspapers, magazines and even 250 top blogs from the worlds of business, technology, sports, entertainment and politics.
The convenient, portable and cool Amazon Kindle wireless ebook reader which measures 7.5″ x 5.3″ x 0.7″ and weights 10.3 ounces is now available for $399.
Update: The original Kindle has been replaced by Kindle 2 and Kindle DX.