For iOS devices' users, you may be frustrated with the proprietary connector type that not only hard to find, but also incompatible with other commonly used charging or sync connector on other smartphone products. If you wonder whether Apple will try to change it for its future products, the recently patented idea may give you some clues. Just recently, Apple has been awarded with a new patent showing a totally new refreshed 30-pin connector with much slimmer form factor design.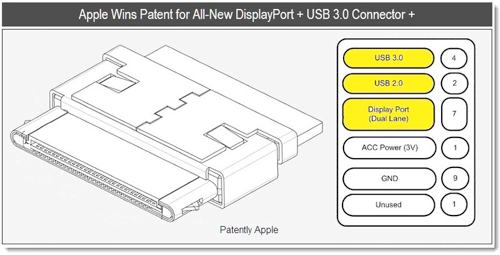 Again, you may be dissapointed as this will still be a proprietary standard but what makes it difference as compared to previous one is its ability to support multiple types of data signaling even including high speed signaling protocol such as Thunderbolt, USB 3.0, on top of legacy AV input/output and etc. If you recall, Thunderbolt (or formerly known as Lightpeak), or was referred as "dual rank DisplayPort" can handle a mixture of video and data signaling of up to 10Gbps in bi-directional transmission simultaneously. In next level of details, the new connector is claimed to be able to carry both 3V and 5V power source in separate channels, as well as USB 3.0 data, DisplayPort and composite video/ audio out and many more, but at a fraction of current form factor design size.
While it seems to be a more comprehensive solution with higher bandwidth catering for intensive media transmission, but there isn't any information whether the newly patented connector type will be backward compatible with existing connector solution or not. Also, there isn't any confirmation on when and which products from the Cupertino-based company will have the new connector design implemented or it purely an innovative idea that sits in patent office.