We mentioned about Jointech JL7100 and Lanyu LY-EB01 as cheaper version of nettop/netbook under sub $100 price range earlier, now seems that another China-based manufacturer, Menq has unveiled an ARM based netbook to fill up the low cost category targeted for those that are tight of budget. Named as EasyPC E790, it is now available at only $80, and is believed to be able to run Android as one of the cheapest machines in this competitive and fast growing market.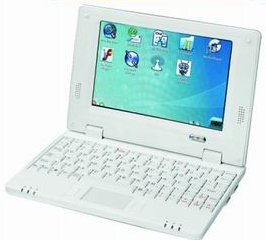 Measured at 213.5 x 145 X 32mm and weighted around 800 gram, the mini netbook is equipped with a 7-inch 800 X 480 resolutions LCD display as similar to other competitors' solution under the same price range. Designed with an ARM9 Samsung S3C2450 processor clocking at 533MHz maximum, it is able to run some basic office applications, web browser, Skype and certain level of lower resolution media playback. Due to extremely low pricing, it consists of only very basic hardware specifications including a 128MB memory RAM, 2GB of flash ROM, an expandable 32GB flash through integrated SD card slot, besides some commonly available USB 2.0 host ports, Ethernet 10/100 RJ45 port as well as 802.11b/g wireless technology.
The tiny machine is already available now and will be preloaded with Windows CE 5.0 but it is claimed to be compatible and can run on Android Operating System.