Previously we mentioned about Jointech JL7100 that appeared as the cheapest netbook for consumer market, now seems that LanYu, a Chinese company based in ShenZhen has developed an even cheaper netbook product targeted for those that are tight of budget but still looking for a lightweight and good companion while traveling around. Named as LY-EB01, it is currently retailed at 666 RMB, or equivalent to $98 and is known to be the world's cheapest machine in netbook market.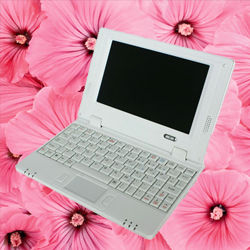 The machine, measured at only 213mm X 142mm X 30.8mm and weighted around 600 gram is quite suitable for carrying around. Don't expect it to be embedded with Intel Atom X86 based processor that is quite pricey, the new product is based on ARM solution, an AK7802Q216 processor clocking at 266MHz that managed to keep the BOM (Bill of Material) cost down. Supported by a 128MB RAM and further equipped with WiFi technology, it ensure a sufficient processing power for normal office applications, as an ebook device or as an netbook device with seamless connectivity to network for web browsing activities. More importantly, the 7-inch display with 800 X 480 resolutions is at least on par with some of the common netbook design in the market but at a cheaper price.
While it may start with its local market first, there could be a plan to sell the units to overseas market in view of greater business opportunity, which eventually bring a good value of ARM core processor, competing against Intel X86 architecture solution in this price sensitive market space.