Here is a simpler way or hack to use the Windows Vista upgrade license and product key as full retail version, which you can use to install on any computer. Upgrade copy of Windows Vista is meant for owners of previous version of Windows operating system such as Windows XP and Windows 2000, and is available for purchase at cheaper price than full retail version. And unlike OEM version of Windows Vista which once installed will lock down to a particular motherboard and CPU, upgrade version has the flexibility to install on another machine just as the full retail version product key allowed once you uninstall Vista from the PC you have previously installed.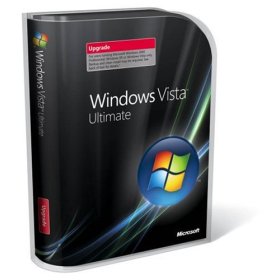 Upgrade copy of Windows Vista is useful if you plan to upgrade your hardware in future but not right now, or when you don't like the idea that when your computer breaks down, you will need to purchase a new OEM or full license for Windows Vista if there is major component change. However, as it's meant for existing Windows customer, when install with upgrade product key, Windows Vista will need verification of ownership of a valid old version of Windows.
Note: It seems like all DVD media are almost the same or similar regardless of which version (upgrade, full or OEM) or edition (Starter, Home Basic, Home Premium, Business or Ultimate) of Windows Vista your purchased, probably as part of Windows Anytime Upgrade program. The only thing that matters is Windows Vista product key which will determine which version and edition of Vista you can use, activate and validate with WGA.
Here how you can install a upgrade key of Windows Vista as if full retail version, in one installation and one time activation, without the need of proof or actual ownership of any existing license or product key of Windows XP or Windows 2000. The steps are also good as replacement for official method provided by Microsoft to clean and fresh install of Windows Vista which involves troublesome 2 times installation, or the complicated official method to upgrade to Windows Vista, where you need to install Windows XP first and later install Windows Vista in order to upgrade. And it should work on all editions of Windows Vista, including Windows Vista Ultimate.
Steps to install upgrade copy of Windows Vista in one installation, works even without any existing license of Windows XP or Windows 2K
Download retail Windows Vista media image or purchase the Microsoft Windows Vista Ultimate UPGRADE [DVD].
Install Windows Vista edition that corresponds with the license product key you purchased. If you purchase upgrade version of Windows Vista Ultimate, then install Vista U, else if you purchase Vista Home Premium, then install Vista HP.
Do not enter any product key during installation. You will get 30-days evaluation copy of Windows Vista after installing.
After Windows Vista setup completed, boot up into Windows Vista, and turn off UAC.
Press Win+R keyboard shortcut to open command prompt.
Issue the following command in command prompt to change the product key:cscript C:\windows\system32\slmgr.vbs -ipk <upgrade product key>
Enter the following command to activate Windows Vista online:cscript C:\windows\system32\slmgr.vbs -ato
Type the following command in command prompt to check and verify the activation result:cscript c:\windows\system32\slmgr.vbs -dlv

You should see that your Windows Vista has been activated.