CMS The Grabber from CMS Portal (www.cmszone.org) is an ultimate tool for fast downloads from RapidShare free service users. The Grabber works in such as a way that it automates the process of changing IP by using different proxy servers hack in order to fool RapidShare to assume that the download requests of RapidShare files are from different computer or different users.

CMS the Grabber, now at version 1.4.5.P, features ability to bypass and overrides RapidShare limitations faced by non-premium (free) account users by using proxy servers, able to start downloading from RapidShare immediately, and ability to download multiple files simultaneously.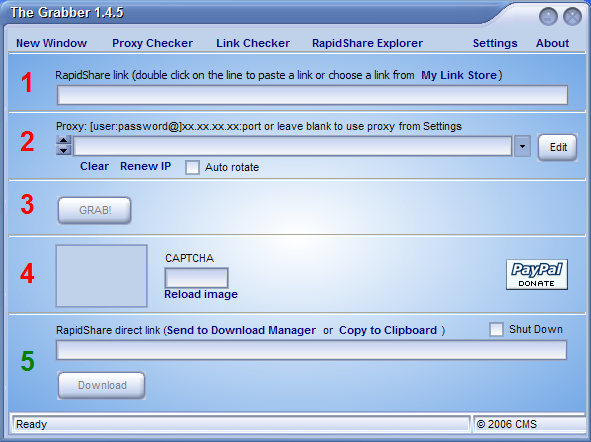 As CMS the Grabber is using proxy sites and servers to bypass and skip the RapidShare download limit, you will need a list of proxy servers and sites available publicly. As mentioned in Universal Share Downloader, a similar tool, for proxy servers list, you can download a software called GeoWhere and use GeoWhere to search for available proxy servers on the Internet, and put all the found proxies into a text file. You should use only anonymous proxy, as transparent proxy will reveal your IP address too. Alternatively, several websites has a long list of open public proxy servers that can be used such as Proxy.6te.net, Proxy.org. Proxy List even allows you to download list of proxy servers in a text file format (remember to download only anonymous or elite proxy by searching for the type before downloading). Alternatively, Forum Proxy Leecher also maintains a Default List of proxies available and Custom List of proxies servers.
To ease the usage of The Grabber, The Grabber comes with a Proxy Checker where the utility will check and test each and every proxy for its usablity. The valid proxies that have been checked then can be imported into CMS the Grabber via clipboard. Then you're set to go to download any files from RapidShare without any limit by keying in the RapidShare download link. If you wish to simultaneously download many files, just click on New Window to setup a new download session.
You can download CMS the Grabber 1.4.5.P from official download link at RapidShare for non-forum member. If you download from above link, you will need this password to unpack and extract the file: www.cmszone.org. But if you can't and unable to download from RapidShare, try to download the Grabber from here (links removed).