In an effort to support the latest version of browsers IE 9 and Firefox 4, Piriform has made improvements to its CCleaner with the version of CCleaner 3.05. CCleaner is one of the best Windows freeware system tuning tool which has been designed to optimize and speed up the Windows processing. The latest version of the CCleaner v3.05 has been improved registry cleaner to trim out old Firewall entries and added lot of third-party cleaning rules.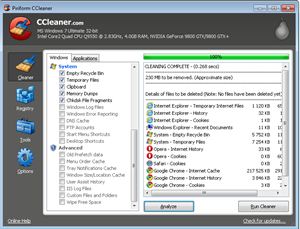 Key features of the CCleaner v3.05 includes:
Added support for Internet Explorer 9.
Added support for Firefox 4.0.
Added Internet Explorer cached feeds cleaning.
Added Internet Explorer add-ons statistics cleaning.
Added iTunes cookie management.
Added Opera cleaning for saved or opened directories paths.
Improved Firefox or Mozilla saved password cleaning.
Improved intelligent cookie keeping functionality.
Improved registry cleaning for obsolete software.
Improved registry cleaning for unused file extensions.
Added registry cleaner for Windows services.
Added cleaning for obsolete Firewall rules.
Added detection of invalid browser helper objects.
Added new environment variables for user documents. (i.e. %CommonDocuments%, %CommonMusic%, %CommonPictures%, %CommonVideo%, %MyDocuments%, %Documents%, %MyMusic%, %Music%, %MyPictures%, %Pictures%, %MyVideo% and %Video%).
Added cleaning for Adobe Air, Advanced Searchbar, Steam, Xfire, Skype, AOL Instant Messenger, Camfrog Video Chat, Miranda Instant Messenger, Pidgin, Yahoo Messenger, ooVoo, TeamSpeak, Ventrilo Client, Ventrilo Server, FrostWire, uTorrent, Shareaza, iMesh, BearShare, DC++ and Ares.
Those users who like to download the latest version of CCleaner v3.05, can download from the below official direct download link.
Download CCleaner v3.05: ccsetup305.exe