Previously we mentioned about Arbor's Gladius G0710 ruggedized tablet PC powered by Intel Atom processor, now Data Ltd has just announced a similar UMPC (Ultra Mobile PC) product utilizing the Industrial grade Atom Z-series processor. Named as DLI8400, it is claimed to be compliant to both IP54 and MIL-STD810F standards and able to withstand four-foot drop test suitable to be used for harsh environment.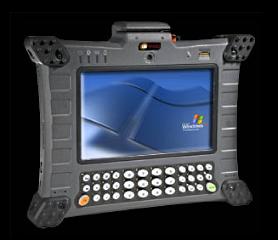 The DLI8400 will be powered by Intel Z530 clocking at 1.6GHz, which is slightly slower than Arbor's Gladius G0710 using Z540 at 1.8GHz. Further coupled with US15W SCH, it provides various functionalities required for typical mobile operation. Some of the hardware specifications include 2GB DDR2 RAM, up to 64GB SSD (Solid States Devices) and a seven-inch 1024 X 600 resolution display. On top of normal UMPC feature sets, the device is also enhanced with different wireless capabilities such as Wi-Fi, Bluetooth 2.0, GPS (Global Positioning System), cellular network and even RFID reader, that makes it a powerful portable machine suitable for industrial usages while on the move. All these are well packed in a sealed casing that can effectively repel dust, water and even mechanical shock to ensure proper operation in extreme environments.
Preloaded with either Open Source Linux or Windows XP embedded, the machine will be available in second quarter of this year at a retail price of $1800.