Occasionally users may face sharing violation whereby users are not allowed to delete files or folders from the computer due to the files being in use or accessed by running programs or a folder that store the files being accessed/opened by other users or programs. It could be quite a frustrating experience especially if users need to delete the files urgently. Seeing these messages prompted out will surely make users more irritated and annoyed: "Cannot delete the file. It is being used by another person or program. Close any programs that might be using the file and try again", "The operation can't be completed because the file/folder is open in another program. Close the file/folder and try again.", "Cannot delete file: Access is denied", "Make sure the disk is not full or write-protected and that the file is not currently in use", etc.

There are various tools and utilities that can actually help to force delete or unlock these files from being locked or used by other applications. For instance users can try utilities such as Unlocker, FileASSASSIN or File and Folder Unlocker as introduced in our previous post. Besides these programs, users can also try another similar tool, namely LockHunter. LockHunter is a free application which can be used to delete files blocked by unknown programs. Unlike other programs, this application will actually show you what programs are locking the file you are trying to delete. With this display information given, users can thence choose to close the program to unlock the file, force the file to be unlocked from the program, or delete the file and even the program physically from the disk. To avoid accidental deletion of a useful file, LockHunter will not remove the files permanently but will move them to the recycle bin in the event users want to recover the files.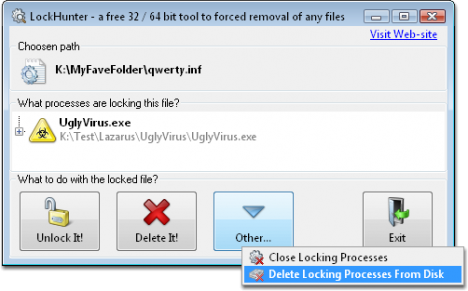 Download Link for LockHunter 1.0.