There are various free utilities available for you to configure DreamBox satellite decoder such as DreamBoxEdit but if you are looking for another feature rich and simple utility, DreamBoxTools from SatHunter is another one that worth trying out to simplify the configuration and setup using simple GUI.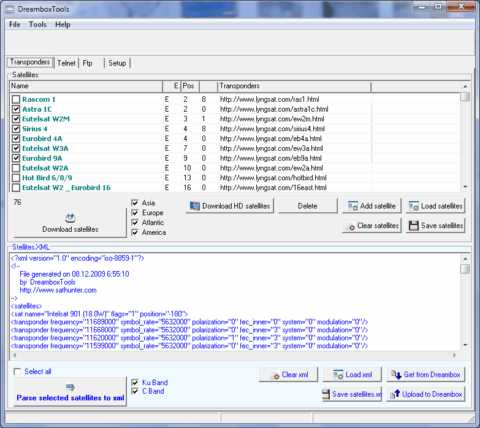 Once download DreamBoxTools, just follow its default setup steps to install it on your Windows PC. Without the need to restart your PC, launch the utility and it is ready to use. Basically, it consists of three main functions namely 'Transponders', 'Telnet' and 'FTP' that will able to communicate with DreamBox decoder effectively for configuration data upload/download. First, need to make sure that you have connected both your PC and Dreambox to a switch or hub via straight Ethernet cable, and on the Setup tab, key in the respective decoder's IP address that you read from TV screen. After that, just move to each tab accordingly depending on your usage. For instance, users can go to FTP, click on Connect and from here you will be able to find all the directories/sub-directories to load or edit CCcam.cfg file for card sharing as an alternative to CCcam.cfg editor or conventional FTP method. At the same time, there is a Telnet tab that allows users to configure or change DreamBox internal settings using command line, such as alter MAC address and etc. Last but not least, the Transponders feature enables a quick and updated satellite lists loading from Lyngsat with configurable satellites (both C and KU-band) searching for each region.
DreamBoxtools consumes around 1MB of your hard disk space and is available for free download from Sathunter. If you appreciate its effort and usefulness of this utility, donation is always welcome.