We have seen Simple Directory Analyzer, Disk Space Analyzer and Disk Space Fan that are able to analyze and display files and folders details, here is another alternative that you can consider. Named as Disk Sorter, it can first classify the folders before you zoom into specific one for second level detail analysis.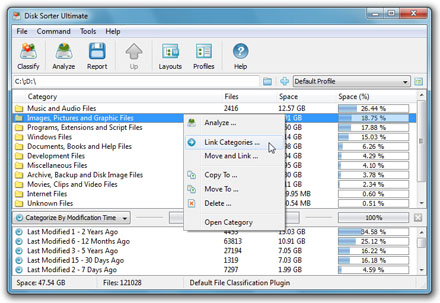 Once install and launch the utility, users will be brought to a simple interface. For the start, there is option to choose the directory to be classified by types of files such as Images, Videos, Documents, Programs, Music, Windows Files and within seconds, it will list down all the number of files, total occupied space in both MB and percentage for the particular directory. Besides, there is a way to even categorize by File Size, Access or modification time, extension and user name. Next, click on 'Analyze' button will let users to analyze and disclose second level details of which sub directories have taken up most of its space. That is not all, all the analysis report can be saved and extracted into either HTML, Excel CSV or text format for future reference.
This is especially useful so that you are aware of how your hard disk space has been utilized and whether there is further deletion or optimization can be done. Consumed around 4MB of your hard disk space, Disk Sorter is compatible with all Windows Operating Systems in both 32-bit and 64-bit for free use.