Remembering various passwords being used in daily life could be a challenge and most of us tend to write them down either in electronics note or printed copy but none of these are secured at all. Previously we mentioned about Free KeyPass v1.13 and Efficient Password Manager that can store all security passwords in an encrypted database, now there is a similar software utility that can achieve the same purpose. Named as KeyDb, it is a tiny portable software utility that enables users to securely store all confidential passwords in a single place.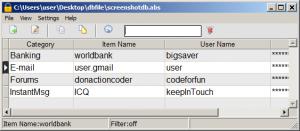 The usage is pretty simple, users just need to create a database (.abs format) with a master password and within the database itself, users can choose the proper category such as email, banking, forums, Instant Messaging and etc followed by the passwords that they would like to store into it. With a master password further enhanced with 256 bit key encryption, it is one of the good ways to store all your passwords and even great news is, Keydb is completely standalone and can be saved into portable thumb drive to be brought anywhere while on the move.
Keydb consumes less than 1MB in size and is free downloadable here for immediate use.