Previously we mentioned about Skype 2.2.0.45 released for Windows Mobile 6.1, now there is a newer version of Skype version 2.5 that has just being made available to public, as an effort to continuously improving the version for better penetration to the market space.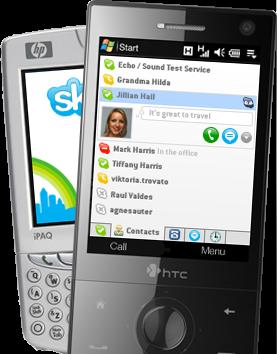 Similarly to previous version, there is not much change except some enhancements in terms of better quality and stability when making or receiving calls. Besides maintaining its familiar user-friendly interface just like conventional desktop version, users will be able to utilize its features practically without the need to go through another round of learning cycles. Besides VOIP (Voice over Internet Protocol) calls, users can also enjoy the instant message chatting with other registered Skype users enhanced with emotional icons. For those frequent international callers, they can make quality voice calls with business partners or stay in touch with love ones at lower subscription plan.
One thing to note here, do remember to uninstall your previous version and have a free 12MB main storage in your mobile device before installing the new version. Users can get a download of Skype 2.5 at here and good thing is, the version is compatible with all versions of Windows Mobile Pocket PC and Smart phones at no cost.