Apple has released a new version of iTunes 8.2.1 which breaks and disables the Media Sync feature in Palm Pre. Prior to iTunes 8.2.1, Palm Pre users on PC or Mac can seamlessly synchronizing with Apple's iTunes media management software for multimedia audio and video files stored in iTunes, but the iTunes synchronization function stops and cuts off once user upgrade to iTunes 8.2.1.

Palm Pre users who encounter the cannot or unable to sync with iTunes 8.2.1 can now download the Palm webOS 1.1 firmware OS update to fix and re-enable the Media Sync native capability with iTunes 8.2.1, according to Palm blog. Along with the patch to restore Media Sync with iTunes, webOS 1.1.0 also includes new application and several bug fixes or features enhancements, in addition to address several security issues. The full list of changelog for webOS 1.1 is available here, but the highlight Among them are:
NFL Mobile Live from Sprint for watching and listening to live NFL games right on your phone.
The Photos application opens more quickly when launched from the camera.
Palm's EAS implementation now supports several Exchange ActiveSync Policies, including PIN/Password required, inactivity timeout, and Remote Wipe.
User can enter emoticons in new text, multimedia, and instant messages. Emoticons also display in incoming messages.
User can now answer a second incoming call if you have Secure Unlock turned on.
Resolves an issue preventing media sync from working with latest version of iTunes (8.2.1).
User can now use symbols from the symbols table (Sym Sym key icon + key) when you enter text into a web page dialog box.
Support for self-signed certificates with multiple common names has been added.
Interesting thing is that Palm enables the ability for Palm Pre or other mobile devices with Palm webOS to sync with iTunes by switching and mimicking (spoofing) its USB Product ID and Vendor ID to those of an Apple iPod. According to PreCentral, Palm Pre hack allowing itself to be identified as follow when the Pre is plugged into a PC or Mac whilst in Media Sync mode.
Product ID: 0x8002
Vendor ID: 0x05ac (Apple Inc.)
Version: 0.16
Manufacturer: Palm Inc.
In previous webOS versions, Palm only hacked Product ID which allowing Pre to identify itself as "mass storage device" named iPod. Apparently iTunes 8.2.1 also checks again Vendor ID and blocks all all devices that is not manufactured by Apple. Palm, in webOS 1.1.0, re-hack to spoof the Vendor ID to mimic Apple too.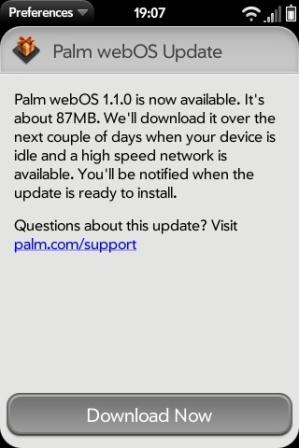 Palm Pre user should receive automatic notification that webOS 1.1 software update is available to upgrade the smartphone. webOS 1.1. should restore Media Sync with iTunes natively, or else there are third-party applications that can still be used to sync iTunes with the Palm Pre device with previous versions of WebOS such as doubleTwist and The Missing Sync for Palm Pre (shareware and Mac only).
Update: Palm WebOS 1.2.1