There are many screen capturing utilities such as FoxArc, Screenpresso, Greenshot and Lightscreen but if you would like to try out something different, here is another free utility named as PrtScr that is worth trying.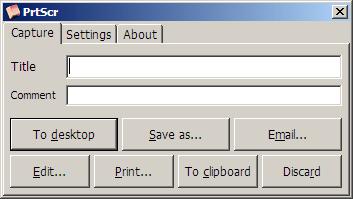 Once install and launch the utility, a tiny icon will be displayed at the system tray. Clicking on it will bring up a window with settings ready for configuration. Basically there are only two categories – 'Capture' (way of capturing) and 'Target image' (image quality and format) that can be configured. For instances, under 'Capture', users can select preferred Hot key combination such as Prt Scr, Ctrl + Prt Scr or even customized keys depending on own preference. Besides, it allows users to configure the utility to either bringing up the window, saving to desktop, editing or copying to clipboard directly once the hot key is pressed. That is not all, users can even choose to capture mouse pointer, auto title & comment and many more. On top of this, under 'Target image' section, there is a way to define the format type as well as quality (if it is in JPG format) to make it more capacity friendly without occupying too much of your hard disk space. Once everything is set, activate the Print Screen function will prompt users with three different mode of capturing that can be accurately sized to print screen certain portion by using mouse scrolling alone. Best still, it enables direct schedule for screen capturing action to happen after certain intervals, such as 5 or 30 seconds.
Consumed around 2.5MB of your hard disk space, PrtScr is compatible with Windows XP and Vista and is free for download here to enhance your snap shots capability suitable for both business and personal uses.