To tap the increasing number of Mac users, Skype has released the new version of Skype 5.0 beta for Mac, which the big jump in version number over the current stable release, Skype 2.8 for Mac. The Skype 5.0 beta has a revamped interface and simplified navigation that looks Mac-like experience. The new Skype app has been improved with all-in-one window for ease-of-use and is integrated with Mac address book for easily call, IM and SMS. Besides that, the group video calling features is also included in this beta version for users to make video calls with more than two people at a same time.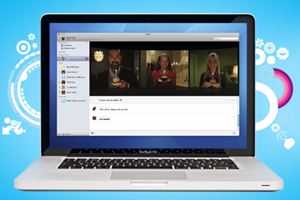 The new Skype 5.0 beta for Mac includes the following new features:
New call control bar which includes hang up, mute and more from a mini Skype toolbar that sits on top of any web pages, documents or photos that the users open.
Search chat content to easily navigate past conversations.
Offline IM for users to send and receive instant messages even if the recipient is offline.
Personalise contacts via user profiles.
Quickly rejoin calls if Internet connection fails momentarily.
Floating Contacts Monitor to see online contacts and contact groups.
The new Skype 5.0 Beta for Mac is available for free download from skype.com , or user can direct download the Skype 5.0.0.6378: Skype_5.0.0.6378.dmg.
The Skype 5.0 Beta for Mac works well in Mac OS X v10.5.8 (Leopard) or newer.
Update: Skype 5.1 for Mac