Previously we mentioned about enTourage eDGe Dual Netbook and e-Book Reader Combo, now seems that its manufacturer, enTourage Systems Inc has launched its e-book store to allow easy access to millions of popular titles online. The online contents, collaborated with Ingram Digital and LibreDigital has allowed users to access to hundreds of thousands professional e-book titles on top of popular e-magazine and e-newspaper.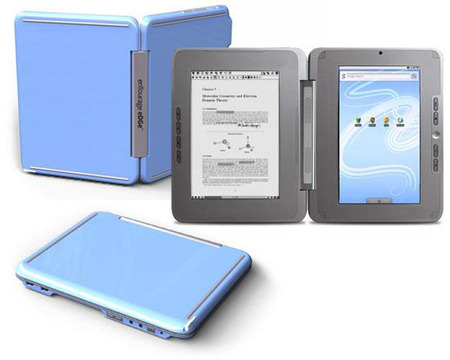 Dubbed as the world's smartest book, the machine is a dual screen multimedia device that featured with a 9.7-inch e-paper screen for e-book reading pleasure while at the same time offering a 10.1-inch LCD screen that allows users to surf net, send emails or enjoy media clips while moving around. Powered by Marvell's ARMADA PXA168 processor, it provides sufficient processing CPU power while still able to stay low power thanks to its ARM core architecture besides having Marvell's 8866 WiFi Bluetooth combo and its proprietary PMIC solution that has able to enhance portability utilizing Marvell Smart technology.
The new enTourage eDGe will be running in Google Android Operating System so users can easily load any compatible applications with own customization for more useful and practical mobile computing experience. The powerful combo solution will be available by February next year and at a retail price of $490, it is definitely a good hybrid solution especially for those that can't decide whether to purchase a netbook or an e-book reader. Best still, they can easily download e-book, e-newspaper and any popular electronics copies from online multimedia store at enTounrageeDGe.com with rich e-book contents from service providers.