CAT5 (Category 5) cable is very common and can be easily available in home or office setup. Although the market is now picking up the new trend moving towards HD (High Definition) resolution, but it is still not easy to replace all existing CAT5 based cable with HDMI (High Definition Multimedia Interface) cable for high definition streaming. Also, it is quite costly to totally replace all of them especially when the cables are running from one room to another room. In view of this, Ethereal has just unveiled a new way of connecting HDMI system by utilizing existing CAT5 cables that can transmit and receive HDMI signals over long distances. Known as HDMI-CAT5D, it is quite useful for digital home with media server and HD TV sitting in separate rooms.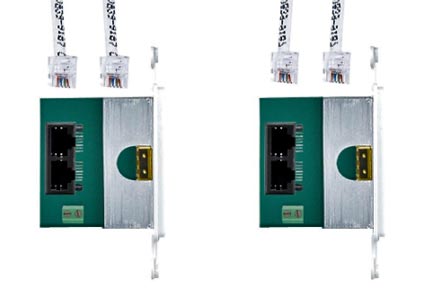 The kit consists of both Transmit and Receive devices that able to convert high bandwidth signals from HDMI to Ethernet standard back and forth without losing the signal's original quality. In terms of connector types, it utilizes standard RJ-45 which is very common in today communication world. Good thing is, it is compatible with CAT5, CAT5E and even CAT6 cable standards. Only some deltas in terms of range performance, CAT5 is able to extends the length to up to 75 feet, CAT5E to 100 feet and CAT6 up to 200 feet.
Unlike Gefen Wireless HDMI extender, it provides alternative way of long distance connectivity with the availability of this product. Priced at only $536, it is a must have accessory kit for your digital home.