In Windows 7, there may be occasional error where user cannot drag and drop an application program to Windows Taskbar (Superbar) and Start Menu anymore, with the icon shows a red cross when user attempts to place it on Taskbar or Start Menu. When right click on a program icon or shortcut, the "Pin to Taskbar" and "Pin to Start Menu" context menu is missing and not showing too.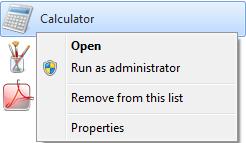 Other symptom that may affect users facing these errors in Windows 7 including no Jump List been popped up when right clicking on icons in Taskbar.
The cause of the problem is because users have made the shortcut in Windows 7 to be 'not a shortcut' by removing the shortcut arrow on icons (including desktop icons) by removing IsShortcut registry key.
Thus, to fix the issue that application programs unable to pin to Taskbar and Start Menu, just re-add the IsShortcut registry key back to .lnk (and other extensions if applicable) shortcut to reset and restore back original state.
For user who insists on removing the shortcut arrow, the proper way to remove shortcut arrow yet still allowing pin to Taskbar.