You may have been using the VLC media player on normal Windows PC or iPad and if you wonder when you can use it on much more popular iPhone 3GS/4 devices, the recently announced good news may cheer you up. Just yesterday, Applidium has released the open source multimedia player into Apps store with add-on compatibility to iPhone, iPod touch on top of existing VLC media player for iPad versions.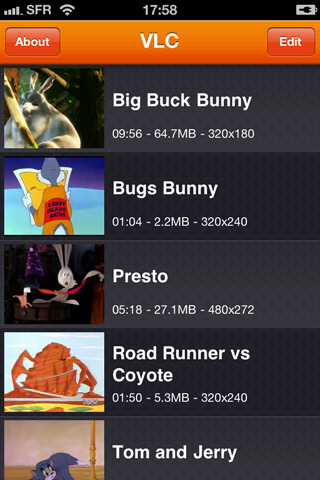 As usual, VLC media player is useful and can be used to play almost every different type of video files without the need to worry on correct media codec support or incompatibility issue and etc.
Some major enhancements include:
Compatible with iPhone 3GS, iPhone 4 and new iPod touches
Ability to delete media files from the VLC multimedia player, without the need to access or remove from iTunes
Support additional media file extensions
Faster video decoding with assembly optimizations
Compatible with most iDevices ranging from iPhone 3GS, iPod touch 3G/4G and iPad, users will need to have at least iOS 3.2 for it to work correctly. VLC Media Player 1.1.0 is free for download at iTunes App Store now and will consume around 8MB of your iDevices' space. However, users with iPhone 3G and iPod Touch 2G may have trouble to install it due to hardware limitation.