We have seen Gefen Wireless HDMI Extender two years back and now here is a new refresh if you are looking for an upgrade to a much powerful wireless transmission device. Being designed to run on 60GHz high bandwidth, the HDMI capable wireless extender can deliver a full uncompressed 1080p HD (High Definition) media streaming at 60Hz and display it on LCD TV in digital home.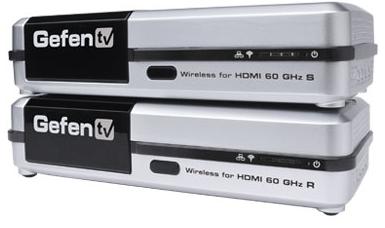 Similar to other wireless extender, the kit consists of a pair of sender and receiver whereby the sender will be fed with video/audio source and on the other end, the receiver will be able to receive media streaming wirelessly and those uncompressed contents can be decoded and displayed on LCD TV without quality loss. Thanks to its advanced high-frequency radio technology running at 60GHz that can support gigabit data transmission compliant to HDMI v1.3 together with 8-channel digital audio.
The advantage is obvious – users will no longer need to worry about setting up and running long cables all over the place. Instead, they just need to position the transmitter and receiver at right location (with line of sight in ideal case) so that the media contents can be streamed wirelessly with up to 30 feet coverage radius. That is not all, the simple plug-and-play installation is even suitable for non-tech savvy and can be done in minutes without complicated setup and wall drilling involved.
As expected, it doesn't come cheap in price and consumers will have to pay $999 just to add this wireless HDMI extender in digital home. Anyway, the hassle and cost of wall hacking and cables mounting could easily cost more than that especially when the whole process is ad-hoc and un-planned.