Previously we talked about Gefen's Optical Based USB Extender that can extend USB cable connectivity up to few hundreds feet range, now the company has unveiled a similar range extender but this time is targeted for HDMI (High Definition Multimedia Interface) cable. Named as GefenTV HDMI v1.3 repeater, it is claimed to be able to deliver a full HD (High Definition) 1080p signal across standard HDMI cable up to 100 feet without experiencing signal quality loss.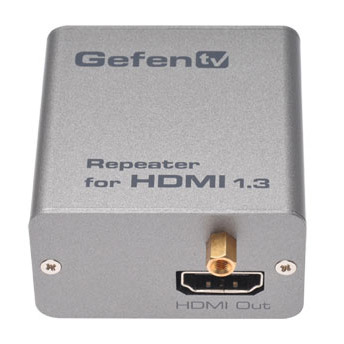 Typically, there is no need to have a repeater for any HDMI cable that is shorter than 30 inch. But in certain scenario when you need an extension to connect the source to digital TV in long distance, then this device will be able to offer a great help. The repeater is compliant to HDMI v1.3 standard which supports Color Space conversion, Lip-Sync, 12-bit Deep Color, 8-channel digital audio and etc. Besides, it is also backward compatible with HDMI v1.2 devices that make it easy to work with any HDMI devices in your living room.
If you think 100 feet is still not long enough, there is a way to daisy chain the connection with multiple repeaters that able to extend the range up to 360 feet without experiencing a signal quality loss. Priced at $200, The GefenTV HDMI repeater is still a good bargain considering the lossless HD media that you can deliver in digital home with extended range.