Desktop is one of the most commonly used locations in Windows operating system. Many users put all sort of things on the desktop because of convenient and the fact that desktop is one of the most prominent and easy to remember location. On the desktop may be shortcuts to programs and files, or even the files themselves. As the result, as time goes by, the icons on the desktop grow, some can be many.

To make matter worse, many applications likes to install shortcut icons on the desktop by default, some unannounced, in the attempt to improve the visibility and usability of the software.
As the result, desktop can get cluttered pretty quickly, making the task of finding files and shortcuts difficult and time consuming. Furthermore, too many icons may hide the beauty of the picture or photo that is set as the desktop wallpaper.
If you want to quickly view the blank desktop, i.e. without any icons or shortcuts, here's the trick to quickly hide all the desktop icons.
Hiding desktop icons does not actually remove or delete the files, folders, shortcuts or icons on the desktop. They're simply hidden and not visible from the desktop, but are still accessible from Windows Explorer or File Explorer, Start menu, Start screen, etc. In addition, the hiding of desktop icons is reversible.
How to Hide Desktop Icons
Right-click at any empty space on the desktop to bring up the context menu. Then, go to View and unselect Show desktop icons to clear the tick on the option. Once disabled, all icons, files, and shortcuts located on the desktop will be removed from desktop and hidden away.
Note: In Windows XP, go to Arrange Icons By instead.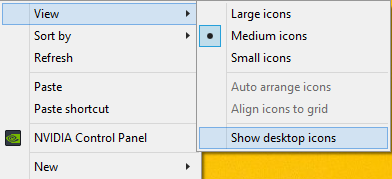 To reverse the change and bring back the desktop icons, re-select and re-enable the "View desktop icons" again.