Sometimes you may want to hide confidential documents from being read by others who have accessed to your computer. There are various software utilities such as SafeHouse Explorer, My LockBox, Hide Folders, Free 1 Second Folder Encrypt, Easy File Locker and etc that can keep your files securely but in case you would like to try something different, here with the FireSteg that serves as Firefox add-on, you can now quickly hide confidential documents into image without being noticed by others so that they are at least safe with certain degree of protection.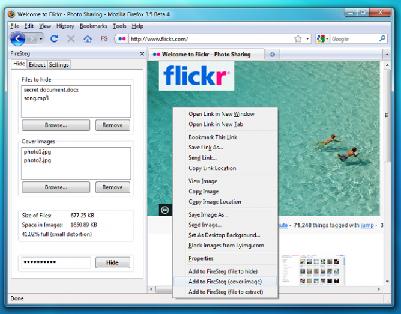 FireSteg is a stenography sidebar extension powered by Java that is able to hide files inside image. It can easily allows you to extract files from the image at anytime whenever there is a need. Once you have installed it, you can start using it by going to View -> Sidebar -> FireSteg and launch it. It will appear at sidebar and in order to hide documents inside image, go to Hide tab, under Files to hide section, browse file/files which you would like to hide, then browse to the image file which you want your files to be hide inside under Cover images section. Do take note that the image file formats supported by FireSteg are limited to jpeg, jpg and png only, other type of formats are not supported and it will cause the hiding process to fail. Once you have done with files selection, just hit Hide button to start the process. To extract file/files from the image, just go to Extract tab and browse for the image file, follow by a click on Extract button to extract file/files from the image. By default, the image file with files hiding inside and file/files extracted from the image will be saved under Desktop. If you would like to change the path, you can go to Settings tab and make the change.
FireSteg 2.0 has made the whole hiding process easier and simple. It works well with Firefox 1.5 – 3.5.*. If you think it is useful, just download it at here.