Sometimes you may need to open lots of applications concurrently on a congested screen which could be quite confusing. It is very frustrating and irritating to click here and there just to look for the right file. Instead of getting desktop or taskbar get crowded and out of control with too many opened applications, there is a software utility with the name of Clicky Gone that is able to hide some of the applications so that you can manage your opened applications more efficiently. In case you are viewing something apart from your job in the office while your boss is by passing your cubical, Clicky Gone allows you to hide the opened application quickly and optionally muting the sound too.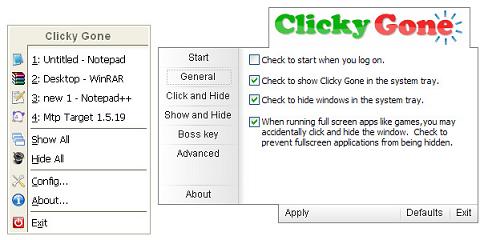 Clicky Gone doesn't consist of a great user interface and is purely keyboard and mouse driven. To hide or unhide all opened applications, just hit Alt+Ctrl+F12. If you want to hide selective applications, just press on Alt+Ctrl+left. Alt+Ctrl+Return will hide and optionally mute the sound, which is useful especially when you want to hide the window from viewing by others. If you want to selectively restore the application, just hit Alt+Ctrl+Space to bring up the menu, then click on the hidden application to restore it to desktop. If you don't like the default setting, you can configure the key combination as preferred.
Clicky Gone is compatible to run on Windows Vista/XP/2000 and is absolutely free to download. If you feel it suits to your need, just go and download it at here. Alternatively, to keep your taskbar tidier and not be crowded by too many opened applications, you may refer to TrayIt! or WinRoll.