RAM (Random Access Memory) is an important element in your PC system that can directly impact its overall performance. While there are various tools such as Minimem or RAMRush that can be used to reduce and optimize memory usage, but in case you are not truly satisfied with any of them, here is an alternative that you can consider. Named as HLP Free Memory Optimizer, it helps to free up some of the RAM usage so that your system can be maintained at optimized level all the time.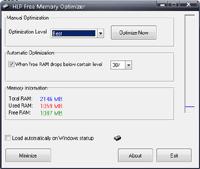 The free utility is very easy to be used. Once install and launch the utility, users will be brought to a simple GUI. Over here, it will show the memory information such as Total RAM, Used RAM and Free RAM so that you are aware of how much RAM usage has been utilized. Besides, there are two optimization methods that users can configure, either Manual or Automatic mode. For Manual mode, there is a way to configure the optimization level ranging from Best, Better and Good depending on own needs. To get the best optimization, just select Best option and then click on 'Optimize Now' will execute and free up memory as desired. On top of this, users can choose to automatically run the memory optimizer when it reaches certain predefined condition, for instance: When free RAM drops below certain threshold (in percentage) and etc.
Consumed at less than 2MB, HLP Free Memory Optimizer is quite suitable to be used in any Windows Operating System so that you get the best performance out of it without the need to spend extra dollar to upgrade to much higher capacity memory RAM.