Unless you're buying a PC in Europe (including UK) where OEM manufacturer has decided to pre-install a web browser on the Windows 7 E or Windows 7 N operating system, which has been stripped off Internet Explorer 8 (IE8), and worse for N SKU, where Windows Media Player related related technologies been removed as well. The no-browser to download browser problem also facing end-user who purchase retail full packaged product (FPP) or upgrade license of Windows 7 E or N. So, without a web browser to start with and go to Internet in all editions of Windows 7 E or N (i.e. Windows 7 Starter, Home Premium, Professional, Enterprise and Ultimate), how would one go about download and install a web browser in Windows 7 N or E?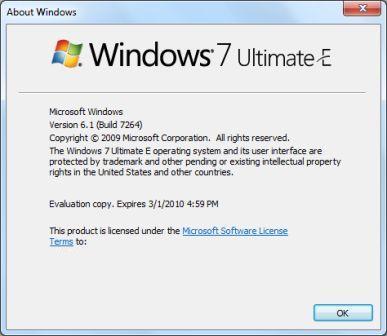 It's expected that majority of the OEM (original equipment manufacturers such as HP/Compaq, Acer, Dell, Lenovo, Gateway, Sony, Fujitsu, Toshiba, ASUS, etc) and PC vendors will bundle and include a copy of Internet Explorer (IE) when they ship the computer to customers. However, if your new PC doesn't have a browser, or you fresh install Windows 7 E or Windows 7 N with self-purchase DVD media or disc, Microsoft does provide suggestion on how to get a browser for Windows 7 E or N.
On a Windows 7 help page on installing Windows 7 E, end-user is request to download and save his or her preferred browser, such as Internet Explorer 8, Mozilla Firefox, Apple Safari, Google Chrome, Opera and any other web browser's setup installer to a storage device, which can be a DVD, USB flash drive or an external storage device. Once Windows 7 E or Windows 7 N is installed, user can then run the setup executable for the web browser in order to install the browser and get to Internet.
For people who always forget to backup or save a copy of browser on external storage device or media, Microsoft does offer Internet Explorer 8 (IE8) CD for ordering, although shipping and handling charge does apply. Microsoft is also said to will be including a copy of IE8 CD bundled for free together with Windows 7 E or N DVD disc packaging.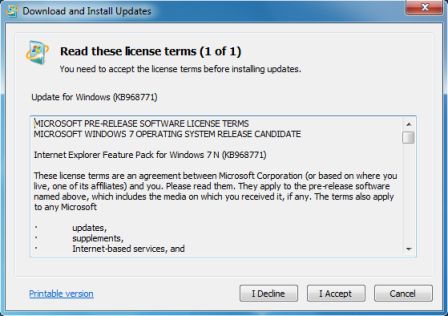 In fact, Microsoft has Internet Explorer 8 Feature Pack in the form of standalone update package called KB968771 IE Feature Pack Update for Windows. The Windows Update standalone installer of KB968711 will install Internet Explorer 8 onto Windows 7 E or N system. Thus, the IE8 will likely be delivered through Windows Update or Microsoft Update channel, making availability of a browser for those browser-less system a matter of few clicks. It's also rumored that Microsoft may provide a FTP server for end-users in Europe to download IE8 installer.
The last resort is to order a installation CD of the web browser. Microsoft allows IE8 CD to be order from here, so do Firefox. In any case, the option of browser selection to install on first use of Windows 7 is unlikely to available.
Update: Microsoft is now proposing a web browser Ballot Screen for Windows 7 European users, which does not remove IE browser.