The CDMA version of iPhone 4 will be only available for pre-order on or around February 3rd, 2011, but apparently Verizon has already started to accept registration of interest. Thus, for people who wants to be the first to know when the official pre-order starts, sign up for Verizon mailing list to be in the loop.

To sign up and register for interest on iPhone 4, head to the following iPhone page on Verizon Wireless or directly to the following URL:
http://ecrm.vzwshop.com/2011_ECRM/consumer/2011_Program_CES/1101_device/?LANGCODE=EN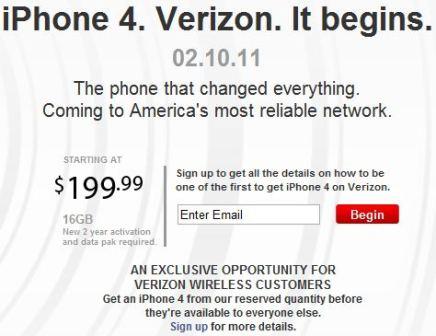 The pre-oder is only available to Verizon Wireless customers only, on a "first come, first serve" basis via VerizonWireless.com. Both home and business pre-order buy must be made online, with store order only available on February 10th, 2011, the official launch date.
It's unclear what priority will be given to those who register for interest though, although the registration page specifies that current Verizon Wireless customers who sign up will have an exclusive opportunity to get an iPhone 4 from the carrier's reserved quantity before they're available to everyone else.
Update: iPhone 4S