Posted:
February 25, 2009
/
Under:
Operating Systems
/
By:
My Digital Life Editorial Team
After releasing IE8 Beta 1, IE8 Beta 2, and IE8 RC (Release Candidate) to general public for feedback and bug report, Microsoft is reported to have been finalizing Internet Explorer 8, the next version of popular IE web browser on February 21st, 2009, according to Russian site Wzor.net. The final RTM version of IE8 will have the build number of 8.0.6001.18691, with full version tag of v8.00.6001.18691 (longhorn_ie8_rtm (wmbla) .090221-2351).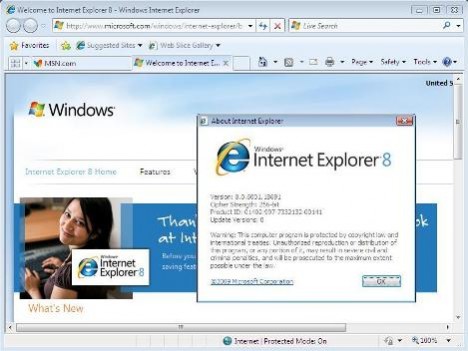 IE 8 Final is likely to be distributed to TechNet or MSDN subscribers and Connect testers before been released to general public. IE8 is said to be already compiled for all supported platforms and for all localized languages, and it is already available to Microsoft partners in standalone setup installer.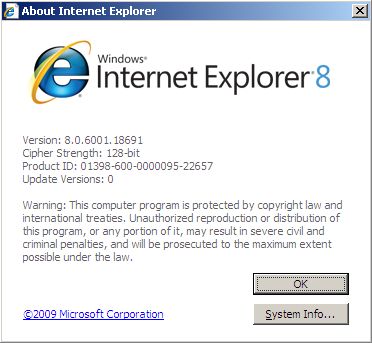 The final version of Internet Explorer 8 will be presented during the Internet Explorer CodeFest workshop at MIX09 (Web Design and Development Conference), scheduled to take place from March 18 to March 20, 2009, at the Venetian, Las Vegas. The workshop itself will take place on March 17, 2009, before the official opening of MIX09.
It's unclear if the IE8 Final will be offered to users of Windows 7 Beta though, however, it's most likely will be included to the upcoming Windows 7 RC that Microsoft plans to make available broadly.
Update: IE8 Final RTM has been released.