Windows Internet Explorer 9 (IE9), the next version of IE web browser to replace IE8 which is included in every Windows PC shipped worldwide, has been previewed by Microsoft. After showcasing IE9 at MIX10 conference, Microsoft has released Internet Explorer 9 Platform Preview, a "partial" web browser intended to give Web developers an early look at the Web platform technology coming in IE9.

As IE9 Platform Preview is not a full web browser, thus it lacks many features and controls user commonly used in a browser. For example, IE9 Platform Preview doesn't even have a back or forward button, address bar (to open a web page, use Page > Open or press Ctrl-O instead) and information bar (also known as gold bar, effectively making downloading of files harder). It also cannot registers as the system default browser, so when clicking on any link that opens in new window, the web page will open in default web browser. More information on limitations and known issues of IE9 Platform Preview is available in the release notes.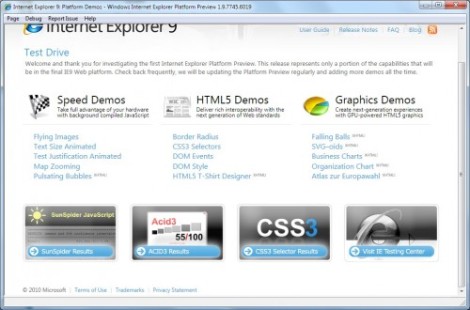 Internet Explorer 9 is expected to have better support for many web standards such as HTML5, CSS3, DOM and SVG, and included support for GPU-accelerated graphics rendering for HTML5 video via DirectX technology, take advantage of GPU hardware acceleration for web pages rendering, and enhance JavaScript engine to support modern hardware.
To run IE9 Platform Preview, Internet Explorer 8 on both x86 or x64 Windows 7 or Windows Vista SP2 (download IE8) is required. However, IE9 Platform Preview is only available in 32-bit flavor. Windows Vista system also needs to install DirectX 2D by installing the Platform Update for Windows Vista, available on Windows Update since October, 2009.
The first release of Internet Explorer 9 Platform Preview is version 1.9.7.7.45.6019, and Microsoft intends to release new version of Platform Preview releases every eight weeks (two months), until IE9 Beta, which is then a full browser is officially.
Download Internet Explorer 9 Platform Preview from http://ie.microsoft.com/testdrive/, or use the following direct download link: iepreview.msi
The IE9 Platform Preview homepage also have links to several web pages for demoing and test driving the IE9 capabilities in speed, HTML5 and graphics. There are also several web standards' test results, including Sunspider, Acid3, CSS3, SVG 1.1 2nd Edition, DOM Level 2, and DOM Level 3.
IE9 Platform Preview side-by-side with earlier versions of Internet Explorer and any other browser(s) on the computer. However, IE9 Platform Preview may share some settings with IE8. As IE8 Platform Preview release does not have full fledged user interface, a lot of web browsing and surfing will have to be done via keyboard shortcuts. Microsoft also publishes a user guide for IE9 Platform Preview.
Document modes

You can force the Platform Preview into different document modes. To do this, click the Debug menu and select one of the Document Modes. You can also press Alt plus the numbers 5, 7, 8, or 9 to select IE5, IE7, IE8, and IE9 document modes respectively (for example, Alt + 7 for IE7). You can press Alt + 0 at any time to reset the document mode to the page default. The current document mode is shown for the currently viewed page at the left of the status bar. Information on Document Modes is available on MSDN, as well as on our blog.

Common Keyboard Shortcuts
A list of available keyboard shortcuts for use in the Internet Explorer Platform Preview:

Ctrl + O: Open a webpage
F5: Refresh
F10: Home
F12: Developer Toolbar
Alt + 5: Force IE5 rendering mode
Alt + 7: Force IE7 rendering mode
Alt + 8: Force IE8 rendering mode
Alt + 9: Force IE9 rendering mode
Alt + 0: Reset Document Mode to the page default
Ctrl +/-: zoom in and out
Alt + ?: Help
Ctrl + S: Save Webpage As…
Alt + /: About
Update
IE9 Platform Preview 2 (1.9.7.7.66.6000) was released on May 5, 2010 (Download: iepreview.msi)
IE9 Platform Preview 3 was released on June 24, 2010.
IE9 Platform Preview 4 (1.9.7916.6000) was released on August 5, 2010.
IE9 Platform Preview 5 (limited browser).
IE9 Platform Preview 7 was released on November 17, 2010.
Update: IE9 Beta