Posted:
September 16, 2010
/
Under:
Operating Systems
/
By:
My Digital Life Editorial Team
IE9 (Internet Explorer 9) was first announced by Microsoft during MIX10 event on March 15, 2010, and had since released several pre-beta copies of IE9 Platform Preview versions, a minimal feature web browser mainly for developers. From September 15, 2010, general public is now able to to download and install a full working version of IE9 web browser, when a IE9 Beta launch event is scheduled.

IE9 packs a lot of enhancements and features such as HTML5 support, hardware acceleration graphics rendering using Direct2D, hardware accelerated text rendering using DirectWrite, hardware accelerated video rendering using Media Foundation, new streamlined and simplified address and navigation bar, faster JavaScript, better CSS3 compliant support, SVG1.1 standards support, embedded ICC v2 or v4 color profiles support via Windows Color System, and more.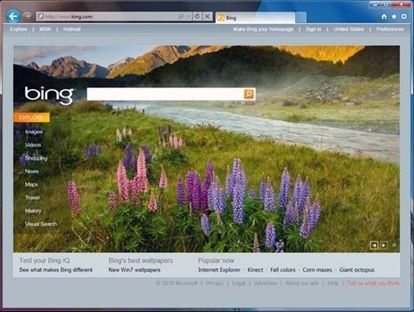 Other than viewing video gallery of IE9, the only way to find out what's new in IE9 is to personally experience the new version web browser. The IE9 Beta has since been released by Microsoft, and available for free download for Windows Vista and Windows 7 users. Those who intending to install IE9 should take note the following items:
IE9 is not supported, and hence not available for Windows XP.
Installing IE9 on Windows Vista or Windows 7 will automatically replace and remove the existing installation of IE7 or IE8. IE9 and IE8 or IE7 does not co-exist alongside (yet, at least until hack available). So, for users who want to use IE7 or IE8, do not upgrade, or make available another PC or virtual machine just to run IE7 or IE8. However, uninstall IE9 should also automatically rollback to IE7 or IE8.
IE9 is available in both 32-bit (x86) and 64-bit (x64) versions. However, 64-bit edition can only be installed on 64-bit operating system.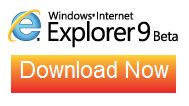 To download IE9 Beta, visit http://www.beautyoftheweb.com/.
Beauty of the Web website releases a mini version installer that requires Internet connection during installation. User who wants the full version IE9 Beta setup installer, all download links to all languages of IE9 Beta full version installer is available athttp://windows.microsoft.com/en-US/internet-explorer/download/ie-9/worldwide, where user can download Internet Explorer 9 Beta in the language that matches the version of Windows. The English version which works with all versions of Windows Vista and Windows 7.
Prior to installing IE9 Beta, do check out IE9 Beta release notes, and the product guide of IE9 Beta Product Guide in PDF and XPS format. IE9 Beta is still a pre-release and not stable product, so if you are facing with too many bugs and annoyances, here's how to uninstall and remove IE9.

IE9 Beta has the build version number of 9.0.7930.16406.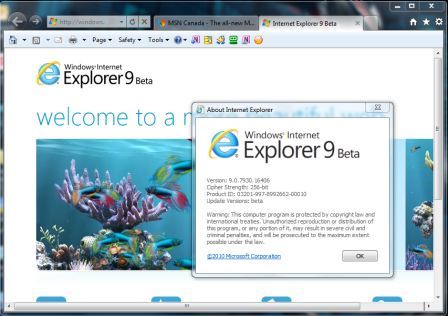 Direct Download Links for IE9 Beta
English
Windows Vista 32-bit: IE9-WindowsVista-x86-enu.exe
Windows Vista 64-bit: IE9-WindowsVista-x64-enu.exe
Windows 7 32-bit: IE9-Windows7-x86-enu.exe
Windows 7 64-bit: IE9-Windows7-x64-enu.exe
Arabic
Windows Vista 32-bit: IE9-WindowsVista-x86-ara.exe
Windows 7 32-bit: IE9-Windows7-x86-ara.exe
Windows 7 64-bit: IE9-Windows7-x64-ara.exe
Chinese (Hong Kong SAR)
Windows Vista 32-bit: IE9-WindowsVista-x86-zhh.exe
Windows 7 32-bit: IE9-Windows7-x86-zhh.exe
Windows 7 64-bit: IE9-Windows7-x64-zhh.exe
Chinese (Simplified)
Windows Vista 32-bit: IE9-WindowsVista-x86-chs.exe
Windows Vista 64-bit: IE9-WindowsVista-x64-chs.exe
Windows 7 32-bit: IE9-Windows7-x86-chs.exe
Windows 7 64-bit: IE9-Windows7-x64-chs.exe
Chinese (Traditional)
Windows Vista 32-bit: IE9-WindowsVista-x86-cht.exe
Windows 7 32-bit: IE9-Windows7-x86-cht.exe
Windows 7 64-bit: IE9-Windows7-x64-cht.exe
Czech
Windows Vista 32-bit: IE9-WindowsVista-x86-csy.exe
Windows 7 32-bit: IE9-Windows7-x86-csy.exe
Windows 7 64-bit: IE9-Windows7-x64-csy.exe
Danish
Windows Vista 32-bit: IE9-WindowsVista-x86-dan.exe
Windows 7 32-bit: IE9-Windows7-x86-dan.exe
Windows 7 64-bit: IE9-Windows7-x64-dan.exe
Dutch
Windows Vista 32-bit: IE9-WindowsVista-x86-nld.exe
Windows 7 32-bit: IE9-Windows7-x86-nld.exe
Windows 7 64-bit: IE9-Windows7-x64-nld.exe
Finnish
Windows Vista 32-bit: IE9-WindowsVista-x86-fin.exe
Windows 7 32-bit: IE9-Windows7-x86-fin.exe
Windows 7 64-bit: IE9-Windows7-x64-fin.exe
French
Windows Vista 32-bit: IE9-WindowsVista-x86-fra.exe
Windows 7 32-bit: IE9-Windows7-x86-fra.exe
Windows 7 64-bit: IE9-Windows7-x64-fra.exe
German
Windows Vista 32-bit: IE9-WindowsVista-x86-deu.exe
Windows 7 32-bit: IE9-Windows7-x86-deu.exe
Windows 7 64-bit: IE9-Windows7-x64-deu.exe
Greek
Windows Vista 32-bit: IE9-WindowsVista-x86-ell.exe
Windows 7 32-bit: IE9-Windows7-x86-ell.exe
Windows 7 64-bit: IE9-Windows7-x64-ell.exe
Hebrew
Windows Vista 32-bit: IE9-WindowsVista-x86-heb.exe
Windows Vista 64-bit: IE9-WindowsVista-x64-heb.exe
Windows 7 32-bit: IE9-Windows7-x86-heb.exe
Windows 7 64-bit: IE9-Windows7-x64-heb.exe
Hungarian
Windows Vista 32-bit: IE9-WindowsVista-x86-hun.exe
Windows 7 32-bit: IE9-Windows7-x86-hun.exe
Windows 7 64-bit: IE9-Windows7-x64-hun.exe
Italian
Windows Vista 32-bit: IE9-WindowsVista-x86-ita.exe
Windows 7 32-bit: IE9-Windows7-x86-ita.exe
Windows 7 64-bit: IE9-Windows7-x64-ita.exe
Japanese
Windows Vista 32-bit: IE9-WindowsVista-x86-jpn.exe
Windows 7 32-bit: IE9-Windows7-x86-jpn.exe
Windows 7 64-bit: IE9-Windows7-x64-jpn.exe
Korean
Windows Vista 32-bit: IE9-WindowsVista-x86-kor.exe
Windows 7 32-bit: IE9-Windows7-x86-kor.exe
Windows 7 64-bit: IE9-Windows7-x64-kor.exe
Norwegian
Windows Vista 32-bit: IE9-WindowsVista-x86-nor.exe
Windows 7 32-bit: IE9-Windows7-x86-nor.exe
Windows 7 64-bit: IE9-Windows7-x64-nor.exe
Polish
Windows Vista 32-bit: IE9-WindowsVista-x86-plk.exe
Windows 7 32-bit: IE9-Windows7-x86-plk.exe
Windows 7 64-bit: IE9-Windows7-x64-plk.exe
Portuguese (Brazil)
Windows Vista 32-bit: IE9-WindowsVista-x86-ptb.exe
Windows 7 32-bit: IE9-Windows7-x86-ptb.exe
Windows 7 64-bit: IE9-Windows7-x64-ptb.exe
Portuguese (Portugal)
Windows Vista 32-bit: IE9-WindowsVista-x86-ptg.exe
Windows 7 32-bit: IE9-Windows7-x86-ptg.exe
Windows 7 64-bit: IE9-Windows7-x64-ptg.exe
Romanian
Windows Vista 32-bit: IE9-WindowsVista-x86-rom.exe
Windows 7 32-bit: IE9-Windows7-x86-rom.exe
Windows 7 64-bit: IE9-Windows7-x64-rom.exe
Russian
Windows Vista 32-bit: IE9-WindowsVista-x86-rus.exe
Windows 7 32-bit: IE9-Windows7-x86-rus.exe
Windows 7 64-bit: IE9-Windows7-x64-rus.exe
Slovenian
Windows Vista 32-bit: IE9-WindowsVista-x86-slv.exe
Windows Vista 64-bit: IE9-WindowsVista-x64-slv.exe
Windows 7 32-bit: IE9-Windows7-x86-slv.exe
Windows 7 64-bit: IE9-Windows7-x64-slv.exe
Spanish
Windows Vista 32-bit: IE9-WindowsVista-x86-esn.exe
Windows 7 32-bit: IE9-Windows7-x86-esn.exe
Windows 7 64-bit: IE9-Windows7-x64-esn.exe
Swedish
Windows Vista 32-bit: IE9-WindowsVista-x86-sve.exe
Windows 7 32-bit: IE9-Windows7-x86-sve.exe
Windows 7 64-bit: IE9-Windows7-x64-sve.exe
Thai
Windows Vista 32-bit: IE9-WindowsVista-x86-tha.exe
Windows 7 32-bit: IE9-Windows7-x86-tha.exe
Windows 7 64-bit: IE9-Windows7-x64-tha.exe
Turkish
Windows Vista 32-bit: IE9-WindowsVista-x86-trk.exe
Windows 7 32-bit: IE9-Windows7-x86-trk.exe
Windows 7 64-bit: IE9-Windows7-x64-trk.exe
Ukrainian
Windows Vista 32-bit: IE9-WindowsVista-x86-ukr.exe
Windows 7 32-bit: IE9-Windows7-x86-ukr.exe
Windows 7 64-bit: IE9-Windows7-x64-ukr.exe
Update: Internet Explorer 9 RC