iHome has launched its new iA100 docking alarm clock Bluetooth stereo system for Apple iPad, which the company claims as their first model created to take advantage of iPad's unique capabilities. iHome iA100 features a Bluetooth wireless connection, app-enhanced communication that works with iHome+Sleep and iHome+Radio apps, and superior sound performance utilizing Bongiovi Acoustics DPS technology.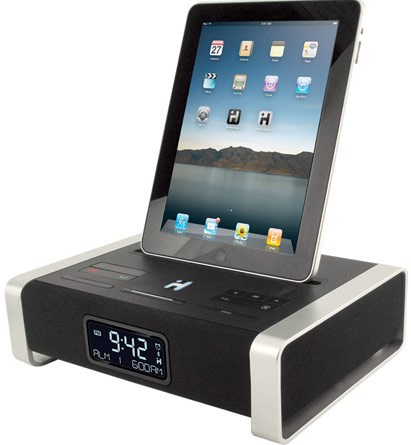 "The features and functionality of the iA100 really raise the standard on what docking stations can do," commented Evan Stein, Vice President for Marketing at iHome. "The ability to connect wirelessly and communicate with our iHome+Sleep and iHome+Radio apps opens the door to new ways for consumers to maximize the use and fun of their favorite portable electronic devices."
iHome's iA100 docking stereo system that employs an universal dock design for supporting iPad, iPhone and iPod with App Enhancement is now available for $199.