iPhone 4 is one of the few mobile phones in the market that uses Micro-SIM (or MicroSIM), an even smaller size version of SIM card when comparing with the standard, ordinary, usual and common mini-SIM (or miniSIM), which currently used in most mobile phones. The incompatible of SIM card left many people who wishes to change to iPhone 4 out in the cold, especially those who wants the convenient to switch between multiple phones (such as in the event of low or out of battery power) or mobile service lines (and SIM cards).


The OEM iPhone 4 SIM Extender from USBFever has the brand name of Armour4iphone, and provides an easy way to use both Micro SIM and Mini SIM on iPhone 4 by converting the microSIM slot of iPhone 4 to miniSIM slot. The extender has a micro-SIM emulator that can be slotted into iPhone 4 internal SIM tray, but it has a cable that extends and connects it to a SIM slot accepting mini-SIM at the other end. With a micro-SIM to mini-SIM adapter, user can easily switch between any type of SIM card, without even ejecting or opening the SIM tray on iPhone 4. With the extender, people who has only mini-SIM or wants to use a standard mini-SIM does not need to cut it into micro-SIM.
Features of USBFever iPhone 4 SIM Extender:
User Apple iPhone with Mini SIM (instead of Micro SIM).
Change SIM Card in a much easier way.
Perfectly fit Apple iPhone 4.
High Quality UV coating grips the iPhone.
Camera lens cutout.
Integrated flip-out kickstand for landscape viewing.
Open design allows complete access to all connections and controls.
Allow charging while in case.
Phone Strap Hole for neck-strap or hand-strap.
Includes microfiber cleaning cloth that guards against scratches, smudges and dust.
Protect iPhone with a stylish case which made of ABS and polycarbonate the contoured ridges the ergonomic design – perfect for texting, gaming, viewing and surfing.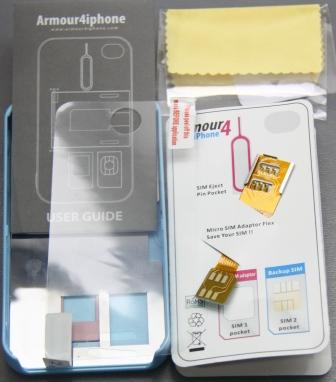 The package of iPhone 4 SIM Extender contains the following contents:
micro-SIM to mini-SIM Extender
Click Stand Case
Micro SIM Adapter
SIM Eject tool
Microfiber cleaning cloth
Screen protector (for front LCD)
User Guide
Using the iPhone 4 SIM Extender is easy and straight forward. The first time setup takes a longer while to replace the microSIM with the microSIM to miniSIM converter. The design of the case is really innovative and it serves several purposes. Firstly, it serves as the protective case for the iPhone, saving you money to buy another one. Secondly, the case effectively need the SIM card converter cable from the view. Thirdly, the flip-out kickstand allows the SIM card converter to be stored externally for easy changing of SIM card in addition to let the case function as a stand in landscape (horizontal) mode. Fourthly, inside the flip-out kick stand opening, there are slots to store SIM eject tool, micro-SIM adapter and another extra SIM card of ordinary side. Lastly, the Armour4iphone case has a protective sheet for the iPhone back glass to protect the back glass from scratch, especially with the SIM card converter stored at the back.
Once the extender is fitted to iPhone, user just need to flip up the kickstand's cover to access the SIM extender, where the existing SIM card can be removed and new SIM card inserted. There is no need to use SIM ejector to open the iPhone's SIM tray. However, it needs a little patient to fit micro-SIM into the SIM adapter to slot into the mini-SIM card slot, as the micro-SIM seems to loose from the adapter easily.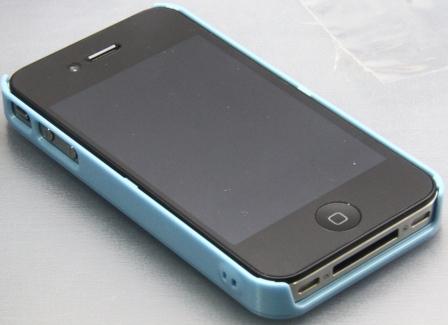 The package of iPhone 4 SIM Extender is well thought out in every aspect for iPhone 4 users to make it convenient and easy to use. However, there are few annoyances too. Firstly, the case makes the phone felt more bulky, probably due to extra millimeters allowance for saving of the SIM extender. Secondly, the feel of the case is of plastic, and in my usage, it feels oily easily, and requires frequent wipe to back to clean state. Thirdly, while the storage slots for SIM ejector and SIM cards are useful, chance is that the object may fall easily out of the slots when the kickstand cover is opened. If you're not careful, the thing may get fall and lost without notice.

Overall, the iPhone 4 SIM Extender from USBfever is the nice and worthwhile accessory for iPhone 4 for people who need the convenient to switch and change SIM card quickly, especially the ordinary SIM card in mini-SIM format which cannot be cut into micro-SIM format. It has a well thought out design and functionality, and can double up a all-out protector for iPhone device with an extra front-screen protector. However, if you have only one SIM card in mini-SIM format, it's recommended to cut the size of the SIM card to micro-SIM format to slide into iPhone 4 SIM tray directly, and get yourself some slimmer protective case.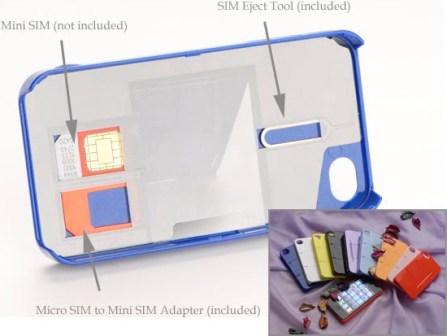 The case of iPhone 4 SIM Extender comes in various colors and is available for $31.99 on usbfever.com. The price is not cheap, but is reasonable and not too expensive anyway, considering most iPhone accessories has higher price tags.
Rating: 8.5 out of 10
Disclosure: My Digital Life received a iPhone 4 SIM Extender Case to review.