Previously we mentioned about iPad not charging due to under powered USB port on Windows PCs, and even though there are some driver update solutions that being released for Asus and MSI Windows PC, but unfortunately there are still no common solution which can eliminate the annoying 'Not Charging' issue. As an effort to rectify this, a simple but yet useful adaptor with the name of iXP1-500 iPad Charging Adapter has been unveiled targeted for any Windows or Mac OS PCs without involving complicated workaround.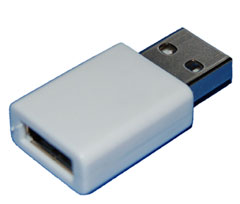 The usage is pretty simple – users just need to connect the adapter between the PC USB ports to Apple charge/sync cable (with Male/Female USB Type A connector) and impressively, the "Not Charging" message that used to appear in the status bar will not be seen anymore. While there is no detail on how the design is able to resolve this, the manufacturer indicated that there is an internal integrated logic that will match its output to iPad power requirements. However, it is doubtful that the small form factor adapter is able to pump as much current required for speedy charging or merely dismiss the annoying "Not Charging" with some tweak that was not disclosed.
Priced at $4.99, the tiny is very easy to be carried and suitable across any PC models regardless of its chipset and Operating System. More importantly, it is very affordable without the need to allocate extra budget for new travel adapter.