Eastman Kodak Co entered the digital photo frame market and is now offering a set of products that links wirelessly to a computer and can access photos on its photo-sharing website, "Kodak EasyShare Gallery".
The Kodak EasyShare Gallery offers prints and gifts from consumer digital photos. It also offers a mobile service so you can view your pictures on your mobile phone. Though the service was originally called Ofoto, it was renamed "Kodak EasyShare Gallery" in summer 2005. It had been earlier acquired by Kodak in June 2001. Kodak EasyShare currently serves about 20 million users and 500 million photos.

The offer from Kodak marks the latest move toward digital for a company that used to rely on film, chemicals and paper for profits and brings a measure of credibility to a technology that's been around for several years.
The frames, with interchangeable faceplats, directly accept memory cards of all types, USB connections and WiFi commands to and from a computer. It can even command a printer to print out a photo. In case the user wanted a hardcopy, after all.
There are 9-inch and 10-inch WiFi version (wireless type), as well as an 8 and 7 inch standard version (LCD screen types), with card slots only. The WiFi version enables you to view photos on your home computer and also display them straight from your online Kodak gallery. There's also the option to set it to music which plays through the two inbuilt stereo speakers, as well as a remote control.
Both of the versions are ranging in price from US$179.95 to US$279.95. Sales are expected to begin in March in the United States.
Read review from D-Preview.
Also look for Digital Picture frame offered by Philip, Parrot and Ceiva.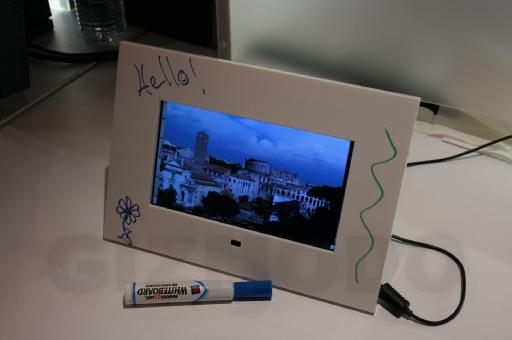 Kodak Digital Photo Frame