The largest satellite television provider, DISH Network L.L.C has announced its free DISH Remote Access application that able to stream live TV, video and recorded TV has been upgraded to support iPad for users to watch favorite TV shows in HD. In addition, the new DISH Remote Access app for the iPad also acts as a full-featured DVR manager and comes with remote control feature that allows user to change channels, browse program guides, start playing recorded programs, as well as other standard remote navigation features such as fast-forward, rewind and pause.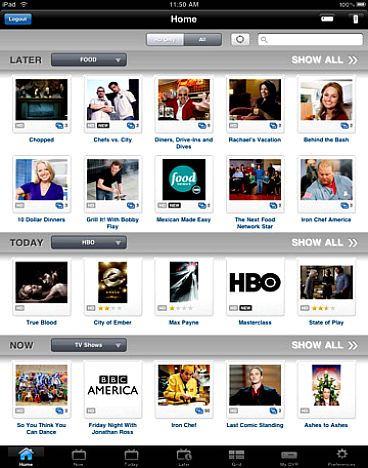 Features of DISH Remote Access:
Remote DVR scheduler
Select shows to record on DVR
View TV schedules
Schedule DVR recordings on multiple receivers
Delete timers
Browse and search up to nine days of programming
Delete shows on multiple receivers
Manage DVR libraries
Streaming live video
Resolving recording conflicts
Delecting already-viewed programs
The DISH Remote Access application for the iPad is now available as a free download from iTunes App Store. To use DISH Remote Access application, iOS 4.1 or later are requires.
To use this service, DISH Network customers must have a high-speed Internet connection to a ViP 922 Slingloaded DVR, or a ViP 722 or ViP 722k DVR with Sling Adapter accessory, or one of the following receiver models: ViP612, ViP622, ViP 722, ViP 722k, ViP 922.