Not long after Freescale's announcement of collaboration effort with Epson to integrate E-Ink controller into its next generation ARM processor, now seems that Marvell, a famous ARM licensee has followed the steps to get its silicon ready for e-book market.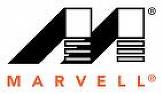 During this stage, Marvell plans to use its famous Armada 166E SoC (System on Chip) by integrating the EPD (Electronic Paper Display)technology directly into the silicon. The benefit is obvious – it will able to lower down the BOM (Bill of Material) cost, conserve board space for more flexible design with sleek form factor, besides power consumption reduction as a benefit to all end users. Typically, an external discrete E-Ink display controller such as Epson S1D13522 costs as much as $20 which is quite significant in the overall system BOM cost and with this movement, consumers will able to enjoy much affordable e-book reader in short future. That is not all, the collaboration effort also involves a technology called FirstPaper that is claimed to be able to scale up the display size and resolutions targeted for larger display screen while still featuring the low power and e-book like feature sets with additional graphics display and hyperlink interaction in web browsing interface.
No pricing information yet, the Armada 166E is already available now and in case you are not aware, Entourage Edge e-reader is one of the final products that will be powered by Armada 166E ARM processor pending release by early next year.