Microsoft Office 2010 is the upcoming version of Office productivity products from Microsoft. Microsoft plans to make available Microsoft Office 2010 beta publicly in July 2009. Although Office 2010 pre-beta setup installer has leaked together with Office 2010 screenshots, there is another Office 2010 beta program meant for technical users been created at Microsoft Connect.

Microsoft Office Technical Beta is now opened for nomination. Although not specifically mentioned, the Office Technical Beta is clearly meant for Office 2010. The Microsoft Office Technical Beta program is an invitation only program intended for committed beta testers. The purpose of the program is to gain product feedback and technical validation across the family of Office client and server products.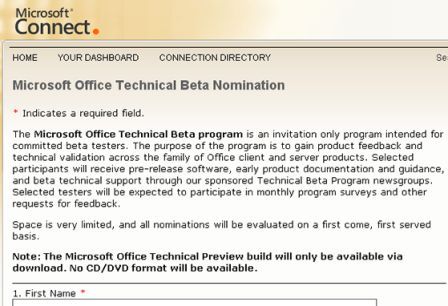 Those who interested to participate in the Office 2010 Technical Beta can nominate themselves by submitting Microsoft Office Technical Beta Nomination Survey at Microsoft Connect. Windows Live ID required. The nominations will be evaluated on a first come, first served basis. However, do note that the technical beta is more inclined towards IT professionals. General public should try their luck at Microsoft Office 2010 Technical Preview.