Microsoft Security Essentials (MSE) is free anti-virus solution from Microsoft that provides real-time protection and on-demand scanner for personal users. Microsoft Security Essentials was previously codenamed Morro, and Microsoft had released Microsoft Security Essentials Beta months ago, and several builds such as Microsoft Security Essentials 1.0.2140.0 (despite higher version number, it's an older version) and Microsoft Security Essentials 1.0.1500.0 have leaked to the web.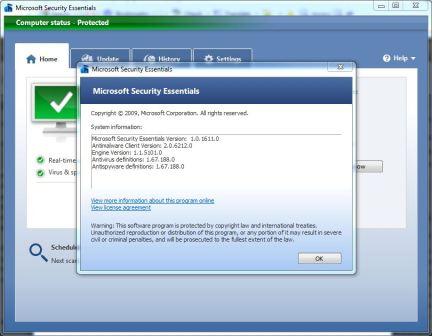 Microsoft has finally released the final version of the Microsoft Security Essentials free antivirus software. Microsoft Security Essentials quietly runs in the background and provides real-time protection for user's PC that guards against viruses, spyware, and other malicious software. The anti-virus program supports automatically updating of virus definitions via Windows Update or Microsoft Update, and users will be automatically enroll to Microsoft SpyNet, an online community that helps users choose how to respond to potential threats, just like Windows Defender.
Microsoft Security Essentials is available as a free download from Microsoft, however, to install and use the software, user will need to pass a Windows Genuine Advantage (WGA) validation test to ensure that the installed copy of Windows is genuine, legitimate and licensed. It supports Windows XP, Windows Vista, and Windows 7 (both 32-bit and 64-bit versions).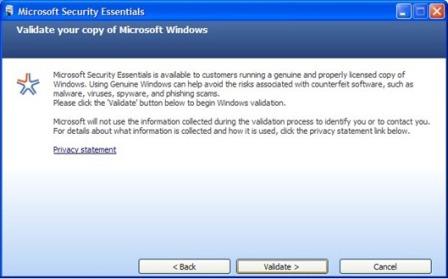 The final version of Microsoft Security Essentials has the version number of 1.0.1611.0.
To download Microsoft Security Essentials final and latest version, just head to official homepage at http://www.microsoft.com/security_essentials/, or download the US English version of the MSE setup installer using the following direct download links:
Windows XP 32‐bit: mssefullinstall-x86fre-en-us-xp.exe
Windows Vista/WIN7 32‐bit: mssefullinstall-x86fre-en-us-vista-win7.exe
Windows Vista/WIN7 64‐bit: mssefullinstall-amd64fre-en-us-vista-win7.exe
For users already with pre-final release of MSE, just click on "Upgrade Microsoft Security Essentials" on Help pull down menu to directly upgrade the program without reinstalling.
Update: Microsoft Security Essentials Latest Version Direct Download Links