The Fortune 500 company based in Seattle, Amazon.com, Inc. has announced a latest version of the Kindle eBook reader – Kindle with U.S. & International Wireless, which allows users to wirelessly download content in more than 100 countries and territories, providing international readers an access to Kindle Store (www.amazon.com/kindlestore) that includes more than 350,000 books.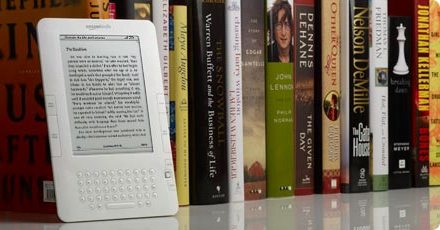 "Kindle is the most wished for, the most gifted, and the #1 bestselling product across the millions of items we sell on Amazon, and we're excited to be able to lower the price," said Jeff Bezos, Founder and CEO of Amazon.com. "We're also excited to announce a new addition to the Kindle family—Kindle with global wireless. At home or abroad in over 100 countries, you can think of a book and download it wirelessly in less than 60 seconds."
Highlights Of Amazon Kindle U.S. & International Wireless:
Get books delivered wirelessly in less than 60 seconds, utilizing 3G Wireless connectivity
6-inch electronic ink display provides users a "read like real paper" experience
2GB of internal memory stores up to 1,500 digital books
Read For Weeks On A Single Charge – supports over 2 weeks with wireless turned off or up to 4 days on a single charge with wireless on
Read-To-Me – Kindle can read most newspapers, magazines and books out loud thanks to the Text-To-Speech feature
Automatically syncs with Kindle and Kindle compatible devices thanks to Amazon's "Whispersync" technology
Wirelessly send, receive, and read personal documents in a number of formats including Microsoft Word and PDF
New Oxford American Dictionary and over 250,000 definitions
Six different text sizes allow readers to customize their reading preference
Readers can add annotations to text, as well as highlight and clip key passages and bookmark pages for future use, all with the use of Kindle's QWERTY keyboard
"Penguin is a leading supplier of digital books to Kindle in the U.S. and we are delighted to be extending that successful partnership to the rest of the world," said John Makinson, CEO of Penguin, the world's largest publisher of English-language books. "The publishing industry is experiencing explosive growth in digital book sales in the U.S. and we hope to stimulate digital buying elsewhere by making our content widely available on new devices."
"At Faber and Faber we are always seeking new ways of finding readers for the writers we publish, so we're excited by Kindle's launch beyond the U.S., and to be developing our strong partnership with Amazon beyond physical books," commented Stephen Page, Faber and Faber Ltd Publisher and Chief Executive.
The new Amazon Kindle Wireless Reading Device with U.S. & International Wireless which measures just over 1/3 of an inch thick and weighs in at 10.2 ounces is now available for ordering (pre-order) on Amazon
(aff) with MSRP of $279, shipping globally starting October 19. In addition, Amazon also reduces price on #1 Bestseller Kindle with U.S. Wireless to $259
(aff) (down from $299).
Update: Kindle 2