Sony new Cybershot DSC-T20 is launched to replace the Sony Cybershot DSC-T10. The Sony Cybershot T20 compact digital camera has an ultra slim and stylish design which can easily slip into a clutch purse or the pocket of a jacket. The new Sony Cybershot DSC-T20 incorporates an 8.1 effective megapixels Super HAD CCD sensor and 3x optical zoom with 6x Precision Digital zoom.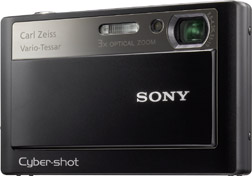 Sony's new T-series cameras (Sony Cybershot T20 and T100) are powered by the Bionz processing engine, first used in Sony's Alpha digital SLR camera (DSLR-A100). This BIONZ processing engine deliver the fast image processing speeds needed to produce detailed pictures for true high-definition photo viewing, better color reproduction, and it also speeds up the cameras' response times and extends battery life up to 350 shots.

New features of the Sony Cybershot T20 are HD Smart shooting and HD output ready, and with these features it seems to be a perfect companion for all those HD television such as Sony BRAVIA TV. However, you still need Cyber-shot station CSS-HD1 to enjoy full HD experience. Sony Cybershot T20 also offers a face-detection mode that can identify up to eight faces in a photo so that the auto adjustment for exposure and contrast for your face is become better. Sony Cybershot T20 got the photo retouch functions that are similiar to Sony Cybershot T100, you can retouch your photo by this internal retouch functions which include cross filter, soft focus, fish-eye and the partial color.
Sony Cybershot DSC-T20 Key Features
8 megapixels HAD CCD Sensor
3x Optical Zoom and 6x Digital Zoom
Carl Zeiss Vario-Tessar lens
2.5 Inch LCD screen
28 MB internal memory (support external Sony Memory Stick Pro Duo)
Double Anti Blur (combination of Super Steady Shot and high ISO 3200)
New BIONZ Processor (same with Sony DSC-T100 and DSLR-A100)
Face Detection Technology (automatically track and focus on your face)
Dynamic Range Optimizer (technology for automatic correction of exposure)
Slide Show With Music Playback
Retouch functions
Full HD output
Movie recording continuously with sound
All new Sony Cybershot DSC-T20 will hit the market by April for about $330. Sony Cybershot T20 also available in 4 colors which are silver, black, white and pink. DSC-T20 is expected to be yet another next hot selling Sony digital camera.