Previously we mentioned about SATA (Serial ATA) hard disk drive Docking Station for easy plug and play that is compatible to 2.5-inch and 3.5-inch hard disk, now there is a new product that able to do more by having both SATA and PATA (or better known as IDE) interfaces. Named as NewerTech Universal Drive Adapter, it can quickly turn any ATA compatible optical modules or hard disk to external drives without hassle. Similarly, both are compatible with famous USB 2.0 compliance interface that you can easily get in today's PC architecture.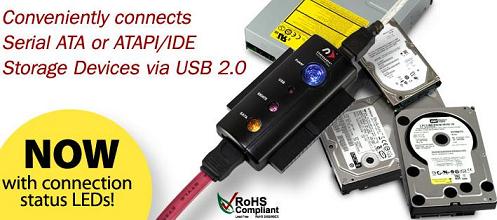 In order to cater for different devices, it features a few different ATA connector heads to be chosen from. Those interfaces are complies to ATAPI-66, SATA-I and SATA-II specifications. On the other end, a standard USB 2.0 (backward compatible with USB 1.1) is provided for fast data transfer of up to 480 Mbps. Not to confuse users, it has few colorful LED indicators that able to tell which port is currently active. Furthermore, it can work with both Macintosh and Windows OS without the need of driver installation.
The product is claimed to be tested with all brands of 2.5-inch, 3.5-inch as well as 5.25-inch hard drives. Not only that, it also works with standard optical drives such as CD-ROM, DVD-ROM drives and Iomega Zip drives.