Previously we mentioned about ARM Cortex processors in Netbook market with Nvidia, one of the ARM licensees among the earliest one that may potentially come out with the new GPU integrated into ARM core to compete against Intel famous Atom processor, now seems that the giant graphics company has further confirmed its roadmap at Mobile World Congress with a new $99 price point platform based on its ARM based Tegra APX2600 processor targeted for MID (Mobile Internet Device) market.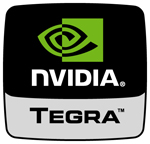 At such a low price point, it is claimed to be the world's first lowest cost HD (High Definition) capable platform with mobile internet connectivity. Thanks to its powerful Tegra APX2600 SoC (System on Chip) that being enhanced with mobile GPU integrated on an ARM11 core. Not to compromise with low BOM (Bill of Material) cost, consumers can expect a great graphics intensive MID with excellent hardware video decode capability with up to 720p/1080i video playback, full wireless 802.11b/g and 3G network connectivity for impressive HD media and internet browsing experience while on the move.
Besides ARM11 that can be used for price sensitive MID platform, there are also a series of more powerful ARM based processors such as Cortex-A8 or multicore A9 that can even be targeted for higher end mobile devices replacing X86 based processors in mobile computing market.