Previosly we mentioned about NVIDIA's first low cost Tegra based MID (Mobile Internet Device), now the famous graphics solutions provider has just announced new plan to release its own netbook based on Tegra, an ARM based processor that is believed to be lower power but yet powerful enough in handling HD (High Definition) media decoding and playback on portable devices.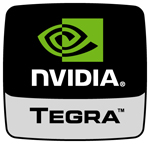 The Tegra processor is based on multiprocessor architecture in which each of the internal unit is responsible for own specific tasks such as hardware decode, Flash acceleration, web based applications and etc that make it so efficient and powerful in delivering great visual experience. The earlier news disclosed that the initial prototype could be built by Mobinnova that contains 8.9-inch LCD screen, full wireless 802.11b/g and 3G network connectivity for impressive HD media and internet browsing experience. As expected, it will have to stick back to Windows CE for now, even though it is expected to run on Google Android Operating System soon when the software porting is matured.
NVIDIA's spokesperson further disclosed that the Tegra based netbook will be price tagged at around $244 and reach consumer market space by November this year. This will definitely another good news for ARM lovers who would like to see new entry to the netbook market which is currently monopolized by X86 based solutions from Intel and VIA Technologies.